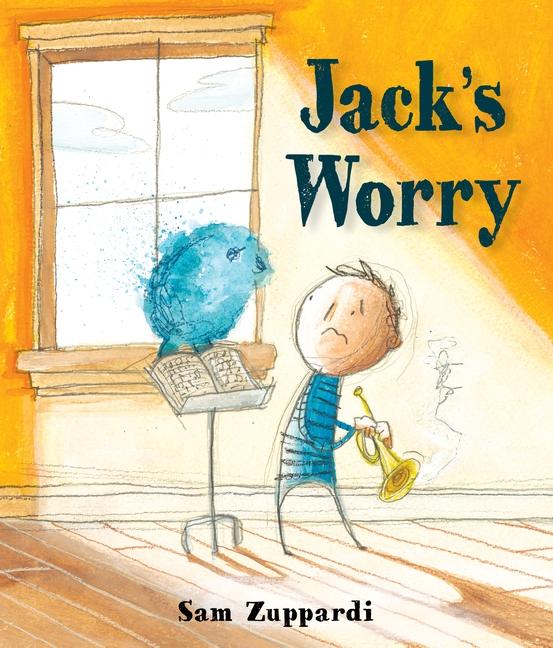 Sam Zuppardi, Jack's Worry, Candlewick Press,  26 April 2016,  32pp., $33.99 (hbk),  ISBN: 9780763678456
Jack loves playing his trumpet and is looking forward to performing in his first school music concert. But on the morning of the big day, Jack finds he has a worry, a big scary overwhelming scribble of a worry!
Children's stories which tackle mental health issues such as depression, anxiety or  sadness can sometimes be overly sentimental and too complicated for young readers, however Zuppardi both writes and illustrates this story with simplicity and sensitivity.  The worry is illustrated as a large splashed watercolour figure which grows in size and makes Jack's life miserable. The more Jack tries to hide away and ignore the worry, the bigger it becomes, until at last he faces it and shares his feelings with his mother.
Zuppradi's illustration style is loose and expressive and works well to express the energy of the characters and of the music itself, which flows through the pages. Zuppardi explains that he likes to create 'pictures that look homemade and write stories that deal with the kinds of things that preoccupy you when you're little.'
A lovely story to share with young readers and a good opportunity to talk about worries and how to deal with them.
Reviewed by Amanda Tarlau