Stephan Pastis, It's the End When I Say It's the End (Timmy Failure #7), Walker Books Australia, 330 pp., RRP $17.99 (hbk), ISBN 9781406382785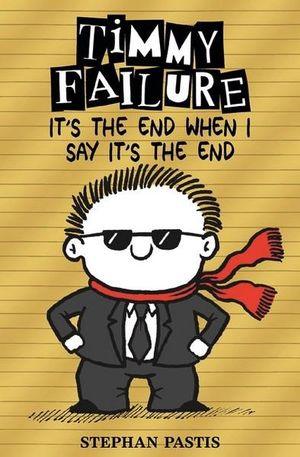 He's back at it with his intolerable antics and insufferable dry humour that readers in the middle-grade age group find themselves inexorably drawn to. Timmy Failure is finally at the end of his quest for World Domination and becoming the Greatest private eye detective…or is he?
International, best-selling author and illustrator, Stephan Patsis, takes us through the seventh, hilarious memoir of a nine-year-old boy trying to convince the world of his greatness whilst also tackling real-life issues of changing family dynamics and new parental relationships, as well as adapting when good things come to an end. Timmy still has quite a knack for making enemies, oh yes, but at the same time realises support is there despite his emotional barriers.
In It's the End When I Say It's the End, Timmy braces himself for major changes in his life, the first including his big announcement of his retirement from the detective business. Shock, horror! But in fact, this moral decision is based on the investigation involving the reunion of his imaginary Polar Bear assistant, Total, with his long-lost arctic brother. Another reason for his decision is the excuse to write his own memoirs of his notorious (and slightly exaggerated) history in crime-solving through the Failure, Inc detective agency. This also includes insights into his forging relationships with his new step-father and once-absent biological father. All this culminates to a heart-warming conclusion following the allocation of a big group project to write, direct and produce a film and the series of unfortunate (or fortunate, whichever way you look at it) incidents and realisations.
With its aptly comical graphic cartoon illustrations, sarcastic tone and some melodramatic yet sophisticated themes, this Timmy Failure novel takes 'brazen' to another level. However, taken at face value, an audience from around age nine would delight in its thrilling allure and endless amounts of personality.
You can find free activities and games at the dedicated Timmy Failure website.
Reviewed by Romi Sharp