Mark Smith, If Not Us, Text Publishing, September 2021, 272 pp., RRP $19.99 (pbk), ISBN 9781922330796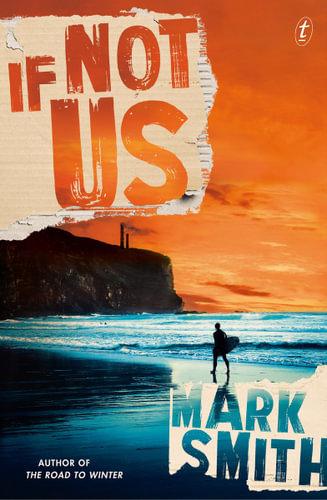 Passionate surfer Hesse has always just accepted the coal mine and power station that is a part of his small coastal town and has never given a second thought to the topical issue of climate change. Despite his mum, accompanied by a group of townsfolk, having spent years campaigning to close the mine and shut down the power station and even being assigned a school presentation on the dangers of climate change Hesse has his mind on other things. Thoughts of one day surfing a certain dangerous area of the coast and the pretty new exchange student from the Netherlands, Fenna, dominate everything else.
After finally attending an environmental group meeting held by his mum however, Hesse realises just how important the issue of climate change is and the need for immediate action. With Fenna's encouragement, Hesse suddenly finds himself in the spotlight. His public speech at a local protest meeting is being broadcast around the world and camera crews a turning up outside his home for an interview. He has unleashed a storm. To make matters complicated a large number of people, whose jobs are under threat, are putting pressure on Hesse and the environmental group to stay silent. These people are willing to do almost anything to keep them quiet.
While the focus of If Not Us appears to be mostly on climate-change action it was disappointing that Smith does not even delve into the science of climate change.
Unfortunately, many aspects of this novel are arguably unnecessary, and the plot is not particularly engaging. Fenna and Hesse's relationship is fleeting and questionable. As well, there doesn't appear to be a clear reason for the sudden death of a town citizen which is thrown in haphazardly and spans all of two rather short chapters. Ultimately, the ending seems rather abrupt and inconclusive. Nothing major has been achieved yet the characters seem to be satisfied with the outcome and are moving on. Hesse's final thoughts mirror his initial thoughts: surfing and a certain Norwegian girl. Nothing to do with climate action.
Due to some strong language If Not Us is not recommended for younger readers. Anyone looking for a light read, something reasonably topical or even anyone who has read and liked any of Mark Smith's earlier publications may enjoy this book.
Reviewed by India Boon