Mary Anastasiou (text) and Anil Tortop (illustrator), I Want to be a Movie Star, Larrikin House, March 2020, 32 pp., RRP $24.99 (hbk), ISBN 9780987635457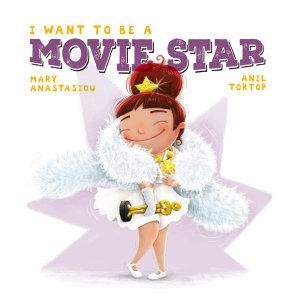 In this delightful picture book, a child imagines being a movie star, taking on a variety of acting roles.
Each double spread page is dedicated to a specific genre of movie character, with a four-line rhyme and an accompanying image, to describe the role.On one page, the child is a bejewelled operatic star dressed in a white gown and wig. On the "fantasy movie" page, she is an ancient Greek hero riding a dragon, and also a witch driving a wagon. And so, the book progresses through a range of movie genres.
I enjoyed the genuine rhythm and beat of the rhymes, as well as some of the text's strong imagery, such as "a ghoul with stinky breath" and "an infamous Detective with a quick and clever mind".
The book's bold and brightly coloured images are funny, cute and appealing. Cartoon style exaggerated facial expressions convey a range of emotions with humour. To name a few –there's a bashful romance character, an exuberant cowboy and a dignified ancient Egyptian Queen. I also love how some images allude to famous movie characters, such as a bowler hat and bow tie clad Charlie Chaplin and a Sherlock Holmes character in cap and coat, thus prompting conversations about movie history. Similarly, the book introduces a range of movie and theatre genres.
This book is a beautifully illustrated celebration of the enjoyment of creative and imaginative play. I recommend it for 3-6 year olds, and the adults who read to them.
Reviewed by Barbara Swartz