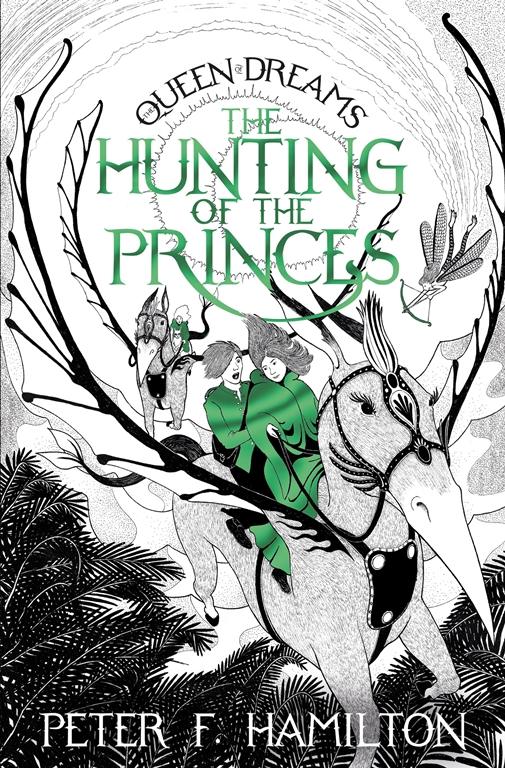 Peter F. Hamilton,  The Hunting of the Princes (The Queen of Dreams Trilogy #2),  Pan Macmillan,  9 August 2016,  304pp.,  $14.99 (pbk),  ISBN: 9781447291145
The Hunting of the Princes is the second title in The Queen of Dreams trilogy from Peter F. Hamilton. I have not read the first so I was curious to see if it was possible to pick up on the threads of this story in the second book — and that was a double-edged sword if ever there was one.
The Hunting of the Princes might be the perfect title to enter into this trilogy, it just kind of depends on how you look at it – you can look at it as telling readers just enough to understand what's going on OR bore them because there is, what I feel is, a lot of treading water in the first half of the book.
Let's look at each: Hamilton expertly doles out enough information to give readers an idea of what happened in the first book — namely Taggie and Jemima find out they have special powers, and that Taggie is the Queen of Dreams in a different realm altogether from well, earth.
When this book opens, they are well in control of enough of their powers to wield magic and in Jemima's case, warn her sister about an assassination attempt — she's a seer. So there's no real feeling that you're missing out on anything and in a way it's almost more exciting to see both girls in control of their powers, rather than going back and reading about them learning to use them.
However, in this book, Hamilton also does a lot of further world-building and expands the politics of the realms. It's necessary, but it slows down the beginning of the book immensely. I'm not saying it's boring by any means, just slow, with a lot of introductions and laying the groundwork for the next book.
But, once past these first few chapters, the book is a marvellous quest for answers, with Taggie growing ever more into her own as a future Queen as she leads her group into the unknown, and possibly war. I enjoyed her search for alternatives to conflict, even as she wasn't afraid to stand up for herself. It ties into a running theme in this book – her awareness of her responsibilities as Queen and as an adult. Jemima is the one who is more the "kid" if anything, but she too grows into her own.
There's a touch of romance in this, and we have the adventurous female character growing romantic with the resident nerdy prince — whose inventions and knowledge are an asset in and of themselves.
When it comes to their parents, I'm a little bit torn — I think too often it's easier to write off the parents and stick them in corner while the kids in question go off on their adventures, which happens in the latter half of this book, but the first has a healthy dose of the girls' parents, in particular their mother, and surprisingly for readers and the characters in the book, her family that will no doubt continue into the next one.
Overall, The Hunt for the Princes can be the perfect middle book for anyone wanting to get into the series. However, it's not without its flaws in terms of pacing, which might be too slow for some readers.
Reviewed by Verushka Byrow