Dhana Fox (text) and James Hart (illustrator), How to Make a Friend in Six Easy Steps, Scholastic Australia, January 2021, 24 pp., RRP $17.99 (hbk), ISBN 9781760973414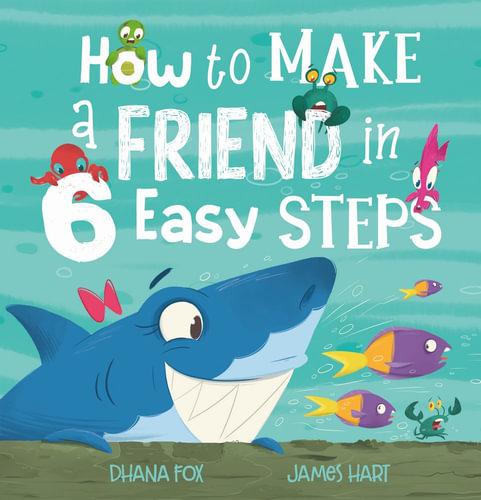 Children will enjoy James Hart's vivid illustrations and Dhana Fox's very witty story about the optimistic main character, Rosie the shark. How to Make a Friend in 6 Easy Steps is a sweet story about Rosie's struggle to find a new friend. In order to make a friend Rosie consults a book called 'How to make a friend in 6 easy steps'. However, when she attempts to put what she has learnt into practice other sea creatures seem very put off by her size and teeth! The text parodies many of the self-help, social skills training models available to help children make friends. For example, step two is Introduce yourself with a fun fact. So, Rosie introduces herself to a baby turtle by saying, 'My name's Rosie and I have fifty-two teeth'. Not surprisingly the turtle is exceedingly alarmed. The other steps are equally useful and are all inadvertently misused by Rosie. This provides an excellent opportunity for parents, carers, and teachers to talk about how we present ourselves to others and other's reactions. Ultimately, Rosie finds a friend who is not put off by her size and teeth and indeed seems to have read the 'How to make a friend in 6 easy steps' book.
Little touches such as the blowfish reading lamp and the fish puffs cereal provide talking points that parents and children can look for together. The text is interspersed with the illustrations, which I find can disrupt the story and makes it harder for young readers to follow along, but the design seems to be gaining popularity.
The concept that Rosie is applying the steps outlined in her book about making friends is perhaps a bit complex for very young readers, recommended 4+ years.
Reviewed by Jessica Dowling