Dave Hughes and Holly Ife (text) and Heath McKenzie (illustrator), How (Not) To Annoy Mum, Scholastic Australia, April 2021, 24 pp., RRP $17.99 (hbk), ISBN 9781761120794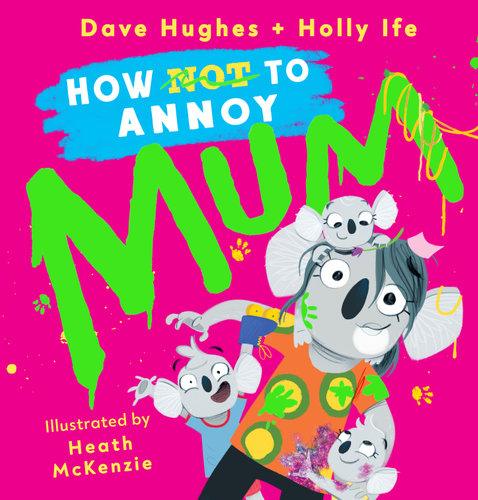 A follow up to How Not to Annoy Dad, this book is a catalogue of sorts, structured under headings that follow the day through, starting with: "Help Mum have a relaxing start to the morning". The family in this case is represented by a koala family, and Heath McKenzie's clever illustrations of them are my favourite part of the book.
Parents and children will no doubt identify with many of the comments of the koala kids, such as "Mum, you said it doesn't matter what people look like, so why are you putting that stuff on?" or "Mum! I just did the biggest poo, come and see!"
This is a nice, bright, happy book, and you won't have any trouble finding the hot pink and luminous green cover amongst the book pile. Inside, the tones are a little more muted, and I like the mixing up of different background colours on each page. The koala illustrations are gracefully comic, especially the parents, who are more distinctive than the kids.
This could prove a suitably distracting title when one is needed, and also should be useful to encourage some funny talk from kids.
Reviewed by Marita Thomson