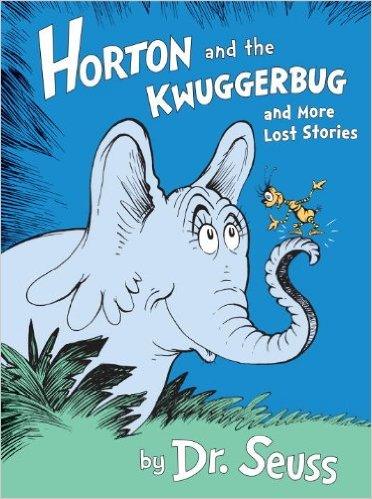 Dr Suess, Horton and the Kwuggerbug and More Lost Stories, HarperCollins Australia, 3 Jan 2016, 48pp., $19.99 (hbk), ISBN 9780008131272
This collection of stories that were originally published in magazines in the 1950s is classic Dr Seuss – full of crazy characters, zany antics and silly made-up words in four fun filled rhyming, romping stories.
Loving, generous Horton is back, this time being taken advantage of by a by nasty, selfish kwuggerbug who gets his comeuppance in the satisfying ending. The stories of Marco and Officer Pat take us on hilarious, convoluted, imaginative flights of fancy as we discover why one is late for school and the other saves the whole town. And in the short finale, the wily salesman Grinch dupes a Hoobub to buy a worthless piece of string.
The magic of Dr Seuss is in how he engages hearts and evokes a gamut of emotion in nonsense stories with outrageous characters.  With big, bold and colourful illustrations showing lots of madcap action this is sure to be a winner with Seuss fans both young and old.
Reviewed by Debra Tidball