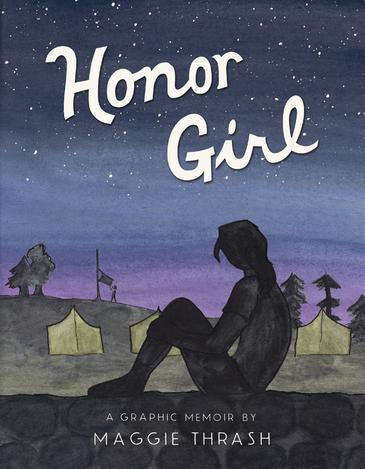 Maggie Thrash,  Honor Girl: a graphic memoir,  Walker Books,  1 September 2015,  272pp.,  $24.95 (hbk),  ISBN: 9780763673826
This beautiful hardback edition of Maggie's account of the summer she spent at camp when she was 15, is a coming-of-age story, and a coming-out story. The framing device at the beginning, where as a 19 year old, she reconnects with her older crush from summer camp, Erin, initially seems contrived and clichéd, however, by the end of the novel, it's clear to see why the book has this structure.
The majority of the story is set during this summer camp, in the middle of nowhere. The history of the Bellflower camp is emphasised time and again – there are enduring (if somewhat outdated) rituals, there are 100 years of tradition to uphold, and Maggie's struggles with her own sexuality are at odds with the conservative tone of the camp.
Maggie loves being at Bellflower, that's easy to see. It's a freeing time, an opportunity to put aside academic pressures, explore nature, and join in activities, and I love how innocent and young all the girls are. The plot stays drama-free really, mostly dealing with the everyday routines and adventures of camp. It's not something that young Australian people have much experience with, but those who are readers will have seen it often in US based YA novels – the summer camp is a well-used trope.
The conflict lies in Maggie, our narrator. She is questioning some of the rules and traditions. She's starting to notice Erin, an older counsellor, and her sudden success on the rifle range is bringing her unwanted (hostile) attention from the resident rifle champion. Maggie is contradictory – she wants to remain undetected, yet she can't help but speak up and stand out. The thing is, at the end of the day, Maggie is a nice girl, who helps others, who makes new friends, but who doesn't play along.
She's also terrified about her growing attraction to Erin, but daring enough to take risks.
In terms of the graphic illustration style, I must confess I wasn't enamoured by it. I am not sure if the author considers herself an illustrator, as well as a writer, and I wonder if it might not have been more powerful with another artist. However, I did find myself, at times, feeling Maggie's emotions and reacting strongly to the visuals as well as the words. There is a genuine attempt to offer different perspectives and a range of image size and shape, making it interesting and absorbing.
Honor Girl is realistic, and heartfelt. It's a worthy addition to the growing range of diverse voices available for young adult readers. It offers a different perspective, and ultimately, it doesn't matter the colour, race or gender of the protagonists, what matters is that they offer a vast range of experiences and struggles, so that teenagers can see themselves in literature, feel connected, and find their own worth. That's what reading is all about.
Reviewed by Trisha Buckley