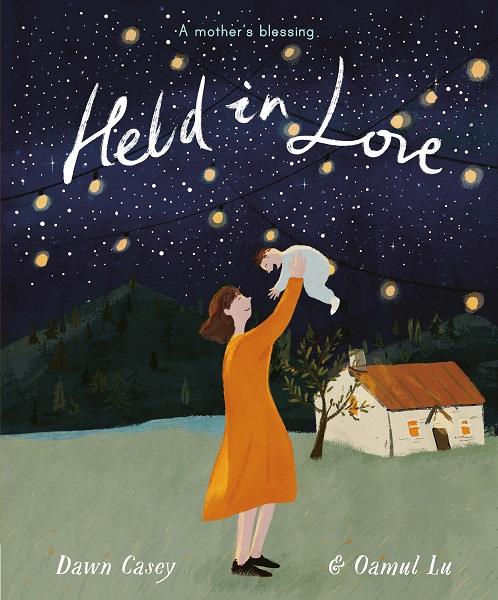 Dawn Casey (text), Oamul Lu (illus.), Held in Love, Frances Lincoln Children's Books/Murdoch Books,  Feb 2018, 32pp.,  $21.99 (hbk),  ISBN: 9781786030672
This is an invocation that every parent could say to and for their child. Starting with the universe the double page spreads take us from the galaxy to the world, the hills, a village and finally a home with a family and a mother holding a child. The mother wishes for happiness in work and play, for generosity and forgiveness in life and concludes by taking the reader back to the big picture with a suggestion for the child to 'look at the stars and know that you are held in the arms of the universe'.
I don't know at what age a child can comprehend their place in the cosmos but it is a lovely and loving thought. The digital illustrations are expressive, colourful and effective at conveying the warm embrace of the mother and of the universe. The landscapes have a Northern Hemisphere vibe but are still generalised enough that they could be anywhere. The children are a balanced mix of genders and appearances and the whole effect is pleasant. The writing flows well with some sound repetitions and short sentences which are placed carefully in different positions on each page.
This is the kind of book you could give to parents when their child is born. It could also become a favourite bedtime book as its gentleness and charm could easily soothe a young child to sleep.
Reviewed by Mia Macrossan