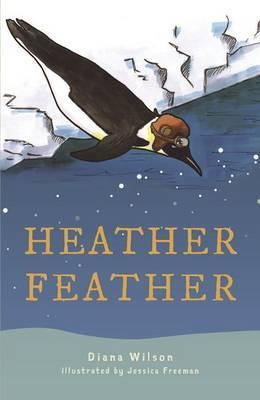 Diana Wilson (text), Jessica Freeman (illus.), Heather Feather, Little Steps Publishing, Dec 2016,  132pp.,  $19.95 (pbk),  ISBN: 9781925545005
Although Heather Feather is presented as an adventure story, it is essentially a non-fiction book framed within the narrative of a penguin's journey from Antarctica, around Australia and home again. The story begins with the birth of Heather, an emperor penguin who soon becomes aware that her home is threatened by loss of ice. She sets out to explore the oceans around her birthplace, eventually travelling right around Australia and learning a great deal along the way about other species and environments. Full of facts, the book introduces the reader to all these places and creatures as well. Some are cute, some dangerous and some enormous. At times Heather keeps her distance, but at other times she speaks to them and learns what their experiences are of their changing environments.
Heather Feather has strong environmental themes, exploring issues such as introduced species, environmental degradation, littering, species extinction and hunting. Sensitive readers might find some of the content disturbing, such as the eating of penguin chicks or discussion of whale hunting. The book doesn't shy away from the realities of human-caused environmental problems. Its central theme is 'beware, take care', which starts out as a warning by Heather's father when she begins her journey, but becomes Heather's wish for humans: that they would become more conscious of their impact and more cautious about behaviours which might harm the natural world.
Heather is a great hero; courageous, driven and very curious. Her father gives her a flying helmet and goggles to wear on her journey, which creates the interesting visual of the front cover. Readers will connect with her emotional journey: she is excited to explore, but at the same time saddened at some of what she discovers, and also fearful when she meets with danger along the way. At times there is an element of 'telling' what she expects to find rather than 'showing' what she has found, and many of her interactions with other creatures are reported rather than shown directly, which creates a bit of distance for the reader rather than drawing them directly into the story, but there are vivid descriptions that bring Heather's discoveries to life, such as chicks "like big clouds of grey fairy floss, all fuzzy, woolly and funny".
Given the complex subject matter and some frightening content the book would be best for mid to upper primary. Whilst the descriptive passages are great for vocabulary learning, there are a few problematical spelling errors, such as 'Peninsula' with an 'r' on the end, and the use of 'feet' rather than 'metres' will be confusing for primary age readers since the metric system has been in place since 1971. However, the book is a great resource for learning about the environment, biology, and Australian history and geography. Each chapter ends with a summary that includes facts about places and animals from the chapter. In the end Heather returns home with a great deal of knowledge about environmental issues and a mission to help children learn to take care of the environment.
Reviewed by Rachel Le Rossignol