Alice Oseman, Heartstopper Volume Four, Hachette, May 2021, 320 pp., RRP $22.99 (pbk), ISBN 9781444952797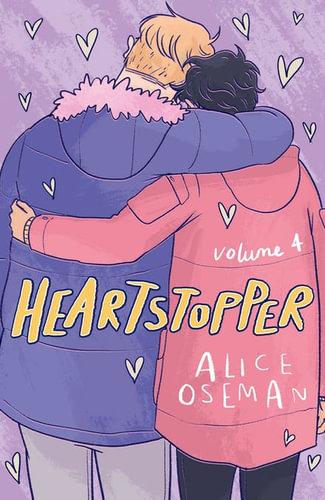 Heartstopper is a series of graphic novels about the burgeoning romance between Charlie and Nick. Each book covers a different aspect of their developing relationship as well as other issues that they must confront. While the first book dealt with Charlie's bullying and his and Nick's attraction, the second focused on Nick confronting his same-sex attraction and his subsequent 'coming out' (to some people). In the third, Nick and Charlie holiday in Paris (school summer trip) and find themselves a lovely, supportive queer group of friends.
This fourth book deals with another of Charlie's issues – his eating disorder. While it's not any more important or 'worthy' than Nick's internal conflict, Oseman acknowledges it as serious by exploring it in depth, and with a lot of useful and quality information, linking his anorexia to mental illness and trauma. Up until now, Charlie's mother is portrayed as a protective and forceful parent, which means reaching out to her is difficult. Nick wants to rescue and save Charlie, but by talking to his more patient and understanding mother, he realises that Charlie may need more expert support, as well as Nick's unconditional love. Both mothers live their love for their sons in different ways, and Charlie's mum, in particular, goes through some character development.
Despite some sad moments, the story is overall adorable and authentic. Oseman does all the artwork as well. Heartstopper began life as an online ezine, and her reach and honesty led to these stories being transformed into print, and they are very popular in both formats. Number five will also be the last and I am on board with that. I would rather leave Nick and Charlie, their friends and family in a happy place, than putting them through more difficult times just for the purpose of keeping it going.
Highly recommended for teens who love diverse stories, told in a graphic style.
Reviewed by Trish Buckley