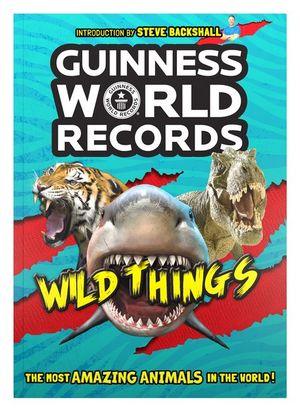 Guinness World Records 2019: Wild Things, Guinness World Records Ltd., October 2018, 216 pp., RRP $22.99 (pbk) ISBN 
9781912286485
This almanac contains a wealth of facts for confident readers about record breakers of the animal world. There are chapters on the oddest, biggest and smallest, and cutest animals. There are also facts galore on dangerous animals, creepy crawlies, zoo animals, conservation initiatives and even dinosaurs. A vast range of animal groups are featured,including all the vertebrate groups, bugs, spiders and worms. A very interesting bonus is the special Q&A pages with various wildlife professionals, such as Jane Goodall, Sir David Attenborough, Bindi and Robert Irwin and Steve Backshall, who also wrote the introduction. Lesser known professionals who are just as interesting are also interviewed.
With 185 photo-rich pages featuring plenty of bite-sized text boxes, readers are encouraged to dive in without getting overwhelmed. Special features include even smaller Quick Fact boxes, Multiple Choice sections, and pages challenging readers to identify animals' silhouettes on the world map in the regions where they live. Answers and an Index appear in the back pages.
As Steve Backshall says in his introduction, "Animal record-breakers fascinate…us, which helps us to engage with the wonder of nature, and in turn want to protect and conserve it". If this book can go some way to achieving this aim, while also entertaining young people and encouraging them to read, what more could you want?
With so much to keep wildlife fansfascinated, I for one will be including this almanac in at least one Christmas stocking this year.
Reviewed by Julie Murphy