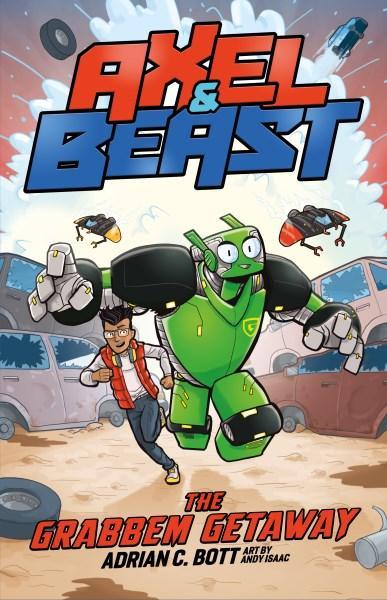 Adrian C Bott (text), Andy Isaac (illus.), The Grabbem Getaway (Axel and BEAST #1),  Hardie Grant Egmont, 1 Sept 2016, 128pp., $12.99 (pbk) ISBN 9781760127800
12-year old Axel's life is turned upside-down when giant robot BEAST (Battle-Enabled Armoured Shifter Transport) breaks into his garage. BEAST is terrified that his creators, the sinister Grabbem Industries, will force him to destroy the natural environment for profit. Axel and BEAST go on the run, helped by Special Agent Omega, but can they outmaneuver Grabbem to keep BEAST safe?
The Grabbem Getaway is one of those rare books that grips younger readers from the very first sentence. My boys (aged 5 and 6) were hooked, immersed in Axel's world of gaming, high tech robots and secret agents. Alongside the fast-paced action, the book deals with themes of bullying, courage and compassion. There's cool tech aplenty once BEAST starts shifting into modes like Skyhawk and Sharkos but the reader stays with Axel, experiencing his reactions, doubts and problem-solving skills. It's a clever touch that the mighty BEAST is a gentle, nature-loving robot, capable of fear and independent thought, despite being built for heavy destruction.
While the dominance of male characters and tech themes are likely to appeal most to boys, the plot is such fun and the characters so engaging that girls should love this book too. Two plugs for the girls are Nedra, Axel's incredibly tolerant, machine-fixing mum who makes her living fixing machines, and Rusty Rosie, the crane-driving junkyard owner.
A special shout-out to Australian illustrator Andy Isaac, whose art entertained my sons no end. Andy is a genius at emotive facial expressions, especially the unfortunate BEAST's.
Highly recommended as a fast-paced chapter book and page-turner for readers aged 7+ and listeners 5+.
Author Adrian C Bott is a gamer, writer and professional adventure-creator. He's helped dozens of people tell their stories over the years – having written and collaborated on over fifty titles, under ten different pseudonyms – and now has a few of his own to share. Axel & BEAST is Adrian's first junior-fiction series under his own name.  You can read more about Adrian on the Hardie Grant website.
Illustrator Andy Isaac has a passion for creative storytelling with exciting imagery. He lives in Melbourne, Australia. You can read more about Andy on his website.
Reviewed by Georgina Ballantine