Margaret Wild (text) and Ann James (illustrator), Goodbye House, Hello House, Allen & Unwin, July 2019, 32 pp., RRP $24.99 (hbk), ISBN 9781743311103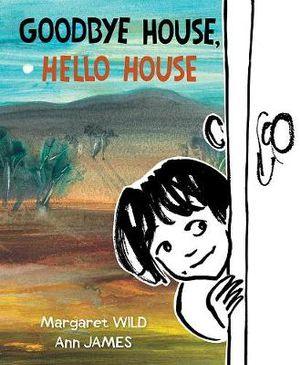 I was lucky enough to hear Ann James talk about her illustration process for this book at a meeting of the Society of Children's Writers and Illustrators. The technique of using water-colour backdrops overlayed with black and white child-like illustrations works beautifully. James brings out the emotion behind Wild's simplistic language so that readers feel the melancholy of the little girl saying farewell to her old home but also the excitement of exploring the new.
The story picks up on the child-like habit of saying goodbye and hello to places. It depicts a little girl on her farm property beginning with the words 'This is the last time I'll fish in this river'. The little girl faces away from the reader, sitting on the branch of a tree. Her head is slightly bowed and there's a poignancy evoked by the combination of illustration and words that is hard-hitting. Later the girl says 'goodbye' to the kitchen, the bathroom, the lounge room until finally it's 'Goodbye, old house. Goodbye'.   
Then there's the excitement of moving to the city conveyed by the child's exuberant stances and 'hello' to every room. I particularly liked the scrawling on the walls – Emma lives here now. Although the appeal of this book is universal, children with experience of moving house will find it especially relatable.  
This book is one of six picture books Shortlisted for the Children's Book Council of Australia's Book of the Year in the Early Childhood category. 
Reviewed by Heather Gallagher