Sally Morgan & Ambelin Kwaymullina, Girls Can Fly, Magabala Books, March 2020 48 pp., RRP $16.99 (hbk), ISBN 9781925936759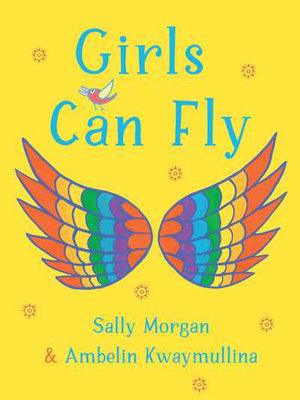 Two of Australia's finest authors, mother and daughter duo Sally Morgan and Ambelin Kwaymullina have collaborated on a most gorgeous inspirational book for young teenage girls. Girls can fly is filled with short inspirational passages, or poems as I like to think of them. The layout of the pages is consistent throughout with a heading of sorts on the left-hand side page on coloured background, and the longer, affirming text on the right-hand side page on a blank background. The colour of the font matches that of the background colour on the opposite side. The affirmations include "Learn from your mistakes", "Trust yourself", "Be proud of yourself" and "Laughter is good medicine". There are more, all brief but strongly written. An early draft of the book was shared with girls from the Kimberley and Pilbara Girls program where feedback and suggestions were taken in. Photos of this time, and information about the program, is given in the back of the book.
This book is not a large or long one, but it will have an impact. Its soft cover and small size make it mobile, offering a just-in-time confidence boost when it is most needed in those early teen years of uncertainty and self-consciousness. Every girl entering secondary school should be given one of these books. If there is a philanthropist out there who would like to fund a worthwhile program for young women, to elevate them and show them what they are capable of, this would be it.
I cannot recommend this book more highly, for all.
Reviewed by Liz Derouet