Tristan Bancks (text) and Jason Chatfield (illustrator), Ginger Meggs, Penguin Random House Australia, May 2021, 192 pp., RRP $24.99 (hbk), ISBN 9781760894818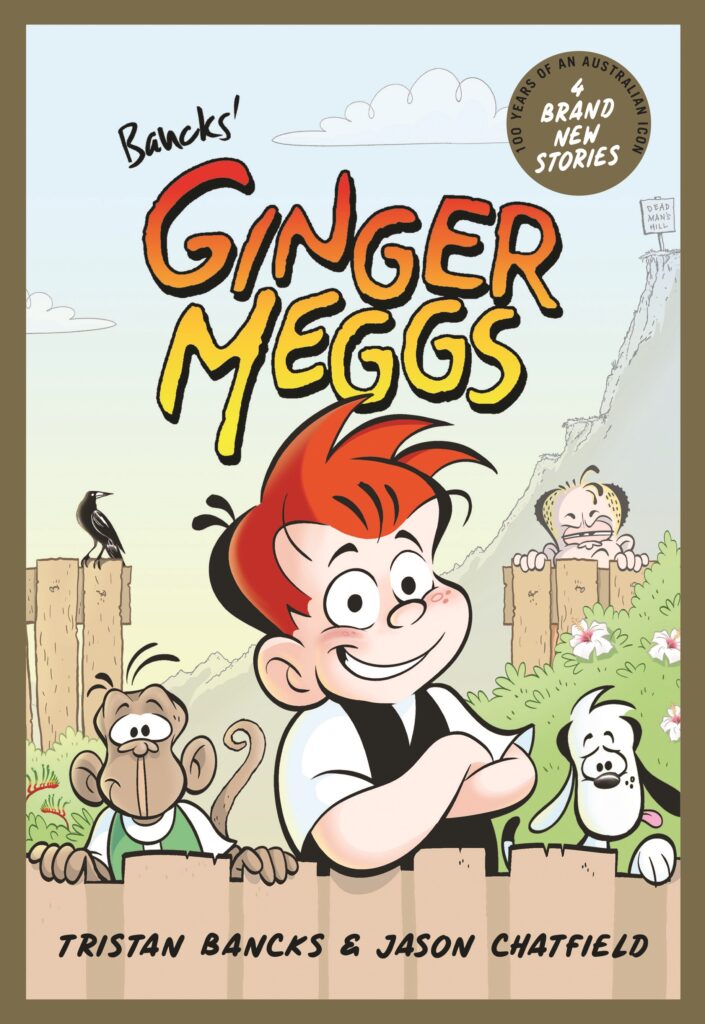 In 1921 Jimmy Bancks started a regular comic strip called Us Fellers in The Bulletin, with a secondary character called Ginger Smith. This cheeky redhead was renamed Ginger Meggs a year later, and an Australian icon was born. Ginger went on to star in his own Annuals and feature films, to have a song written about him, to be painted on the side of fighter planes in WW2, to appear on coins and stamps, and even to be mentioned in a Prime Minister's speech. The comic strip was syndicated and became a worldwide hit in the 1940s and today is still published in over 100 newspapers worldwide as well as on the internet.
This beautiful hardcover, gold-spined special edition celebrates 100 years of Ginger Meggs with four original, brand new stories, illustrated in full colour by Chatfield, the current comic strip artist. In 'Billy cart challenge' Ginger faces off against his arch-rival, Eddie Coogan, in a dangerous race on Dead Man's Hill. In 'Lamington billionaire', Ginger learns that cooperation may be more effective than competition when his best friend Benny steals his idea of selling lamingtons to the locals. In 'Ginger Meggs for PM', Ginger learns a valuable lesson in politics, and in 'Father's Day', a camping weekend with his father turns into a complete disaster.
There is plenty of action, excitement, and rivalry in the stories, which all have a true Aussie flavour. Ginger manages to find himself at the centre of escalating disasters over and over again, but there's a lot of humour and fun along the way, and the occasional lesson learned. At times the adults behave more childishly than the kids. Ginger is the larrikin he's always been, getting in and out of trouble, shirking work, having bright ideas that cause chaos, and demonstrating mateship through shared adventures and conflicts.
The stories are diverse in their representation of gender and race, with all sorts of characters taking the lead at different times. Most pages have a colour picture that depicts the characters and situations perfectly. At the end of this special edition there is a six page timeframe that tells the story of Ginger and his creator Jimmy Bancks.
This special edition is a keeper for school libraries!
Reviewed by Rachel le Rossignol