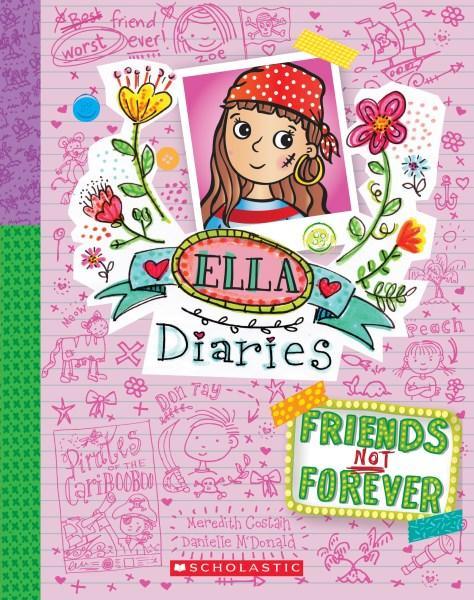 Meredith Costain (text),  Danielle McDonald (illus.),  Friends Not Forever (Ella Diaries #7),  Scholastic Australia,  1 May 2016,  144pp.,  $12.99 (pbk),  ISBN: 9781760157173
Anyone who is a fan of the Ella Diaries series is bound to enjoy this swashbuckling, theatrical, friendship-challenging installment.  In Friends Not Forever Ella and her best friend Zoe are auditioning for the school play. With a new girl in the mix, friendships are tested and when Ella doesn't get the part she most desperately wants, things may just fall apart…. Or will they?
For anyone unfamiliar, Ella writes diary entries, recounting the events of her life in a somewhat dramatic fashion, complete with labelled cartoon pictures of the people and events she discusses. Her sister, Olivia, is an eavesdropping, secret sharing pest and her BFF Zoe is chief secret-keeper and collaborator.
Although Ella is in year 5, her diary is an easy read; using the natural, conversational language of a pre-teen. The writing is intentionally imperfect in terms of spelling errors, invented vocabulary, ideas crossed out and re-written, and gives a great insight into what Ella is thinking and hoping for – no matter how unrealistic.
Meredith Costain has a knack for writing the world as kids see it – if a little simplistically at times – and Ella is a likeable character. She dreams big, is passionate about how she sees the world and has a great sense of righteousness.
Danielle McDonald's cartoon style images capture and reinforce the ideas in Ella's diary perfectly. They make it easy for visual readers to keep track of who is who, and help to clarify the plot and highlight the main ideas as Ella describes her adventure in a typically non-linear fashion.
Friends Not Forever is a fun and light-hearted read for girls aged 7 – 11. What fun to imagine yourself as one of her friends!
Reviewed by Katie Bingham