Maura Pierlot, Fragments: Journeys from Isolation to Connection, Big Ideas Press, October 2021, 126 pp., RRP $21.95 (pbk), ISBN 9780645099805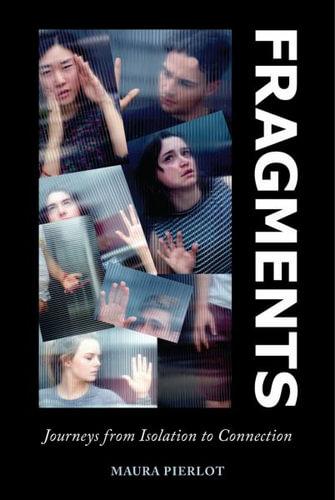 CBCA Reading Time is pleased to present two reviews of the work of one of our own reviewers, Maura Pierlot. We are excited to feature guest reviewer, Sandra Bennett, who had the privilege of seeing the play Fragments performed earlier this year.
'I feel like I'm a piece, a fragment that's missing all the good bits, but I don't know where to find the rest… the parts I need to work properly. I bet they wouldn't fit anyway.' (Lexy, age 17)
This play offers a window into the minds, hearts, and lives of eight young people trying to navigate and survive high school and beyond.
The world today is perhaps both the most connected and isolated place it has ever been. However, Fragments is a story of journeys from isolation to connection, with characters and stories that will be familiar to readers, both in fiction and real life. Young people are given voices through this text — in a way that can be difficult in reality — to express some of their struggles and pain. The text allows the audience to look outside themselves and see that they aren't alone, and this important message adds to a growing body of work chipping away at the negative stigma around mental health.
The stories told in Fragments deal with quite heavy topics, so please keep this in mind before reading. Themes include anxiety, depression, self-esteem, self-identity, gender dysphoria, family dysfunction, body dysmorphia, social media, stress, bullying, grief, and alienation. Quite a lot!
Included with the script is a study guide that is ideal for using in the classroom, with suggested activities tailored to the Australian Curriculum. The play and activities are targeted towards years 9-10, however adjustments for years 7-8 and 11-12 are also included. A valuable resource to be utilized in a range of different subjects.
I believe that Fragments is an extremely powerful and important text for young people to experience. If you are someone who works with young people, I urge you to consider sharing this meaningful text with them in some capacity.
Reviewed by Libby Boas
I feel like I'm a piece, a fragment that's missing all the good bits, but I don't know where to find the rest … the parts I need to work properly. I bet they wouldn't fit anyway. (Lexy, age 17)
Eight young people navigating high school and beyond, each struggling to hold on – to family, to friends, to a piece of themselves. Perhaps you know them. The bubbly girl who keeps telling you she's okay. The high achiever who's suddenly so intense. The young teen obsessed with social media. The boy challenged by communication. Every single day they, and others, are working hard to keep it together. So hard, they don't see their friends are struggling, too. Through eight imagined stories, Fragments moves from a place of disconnection to connectedness.
I was fortunate to attend the closing night of the sold-out production of Fragments at the Street Theatre, Canberra in 2019. The conclusion of the play left me feeling overwhelmed with empathy for these eight young, tormented lives, yet also gave me hope that there is a way forward through connection and dialogue. I was in awe that Maura Pierlot could write a play that would impact the lives not only of teens, but their parents, carers, and teachers as well.
Now Maura has taken it one step further in producing the paperback version to allow high school students everywhere the opportunity to engage with the play whether through reading or performing. This is such an important and significant piece of work to connect students with the issues of mental health, even more importantly in today's Covid-19 world of restrictions, social distancing, and isolation. The eight characters in this play are self-isolated in their own ways, all struggling to find their place in the world and a sense of belonging. Whether it's cross-cultural divergence, social media bullying, or anxiety and depression, these eight conflicted characters share a glimpse into their inner traumatised world. Discussion of the many mental health issues dealt within this script will encourage and foster dialogue of the mental health issues that teenagers are facing in today's reality.
As I read the book, I had the same thought-provoking feelings as I did while watching the performance. My emotions ranged from despair for each character's different inner struggle to reflection and consideration. It made me contemplate my own three sons, and how they and their friends coped with their teenage years.
Attached at the back of the book after the script is an extremely useful study guide for teachers and students. As a former teacher, I am certain that high school teachers will appreciate all the links to the curriculum and learning outcomes. The activities from English, the Arts and Civics are all able to be adjusted to be suitable for all students from year 7 to 12. I can't recommend this book more for teens, their parents, carers, and teachers.
Reviewed by Sandra Bennett