Dav Pilkey, For Whom the Ball Rolls (Dog Man, #7), Graphix, August 2019, 256 pp., RRP $16.99 (pbk), ISBN 9781338236590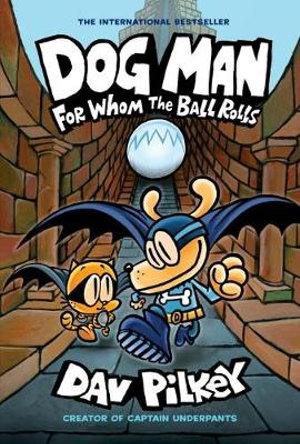 Dav Pilkey, of Captain Underpants fame, is on to a winner with yet another graphic novel in his popular Dog Man series. This new episode is titled: For Whom the Ball Rolls. Similarly to other Dog Man titles, it has plenty of humour, action, shapeshifting creatures, absurd characters, interactive elements, and general fun and irreverent silliness to keep young (and not so young) readers engaged and amused.
In this story, the half dog-half man police officer, known as Dog Man, undergoes behavioural modification therapy, so that he can focus when chasing burglars, without being distracted by balls and squirrels. But, a nefarious, new villain, Dr Scum, – safe in the knowledge that Dog Man is now averse to fast moving balls – invents burgle balls which roll around stealing valuables for him. Dog Man's friend, Cat Kid, rallies Dog Man out of his ball fearing stupor, and with the aid of their robot friend, 80-HD, and the "Very Hangry Raterpillar" (yes, this is a reference to that famous caterpillar) – they attempt to fight off the burgle balls. But Dr Scum has a seemingly unvanquishable weapon – a multi-armed Colossal Bot 2000. Finally, the Bot 2000 is defeated by a brand new, powerful ratterfly which emerges from Raterpillar's encasement (sound familiar?) and Dr Scum is captured as he trips over the rotund form of Commander Cupcake, the cupcake eating superhero.
Pilkey is a master at amusing his readers with slapstick humour, absurd scenarios, bizarre characters and outrageously bad behaviour, as depicted through appealing brightly coloured cartoon illustrations and the written dialogue. Another special feature of Dog Man books are the interactive elements, such as flipping between two pages, to create an animated cartoon, and the step-by-step drawing instructions. I mostly enjoyed the more subtle humour, such as references to classical literature, and play on words. Evil Dr Scum makes a joke about having more armies up his sleeves – with reference to his multi-armed robot – to which Cat Kid responds that he thinks the joke "is the pits".
Dog Man books appeal to a wide age range in the primary school years, and the graphic novel format is especially well suited for newly confident young readers and older reluctant readers. I recommend this new episode of Dog Man for boys and girls aged 6-11. Being a quick read makes it also suitable for adults to read with their kids.
Reviewed by Barbara Swartz