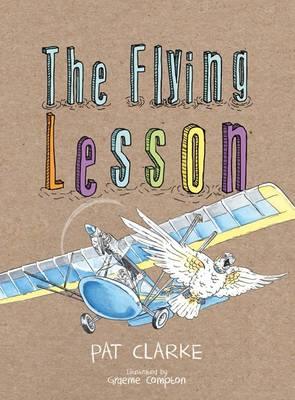 CLARKE, Pat (text) Graeme Compton (illus.) The Flying Lesson Little Steps, 2014 unpaged $25.00 ISBN 9781925117035 SCIS 1661165
No one knows what Grandad is doing in the shed, only that there is a lot of thumping and crashing from inside.  In the nearby hen house the secret is spread with a round of Chinese whispers; could it really be a Vulture Bite?  When Grandad finally reveals his project it's not a Vulture Bite, but an Ultralight.  He asks Wally the cockatoo to help him learn how to fly his plane, but on his maiden flight the plane crashes into a tree at Dubbo Zoo.  It takes six pelicans and Wally to rescue Grandad unscathed, as lions roar and claw the bottom of the tree.
Entertaining and amusing, The Flying Lesson is an adventure with a distinctly Australian atmosphere.  The colourful illustrations help to bring the story to life and the animal images in particular capture detail and character.  The text is long for a picture book format, however, readers between the ages of four to eight will enjoy being part of this madcap escapade along with Alex and Brittany, the grandchildren.  The reader is left wondering about the gypsy wagon – the next project Grandad intends to build – and the possibility for continuing adventures with Grandad and his lively crew.
reviewed by John Nolan