Lili Wilkinson (text) and Dustin Spence (illustrator), Flummox (How to Make a Pet Monster, #2), Allen & Unwin, June 2021, 208 pp., RRP $14.99 (pbk), ISBN 9781760877392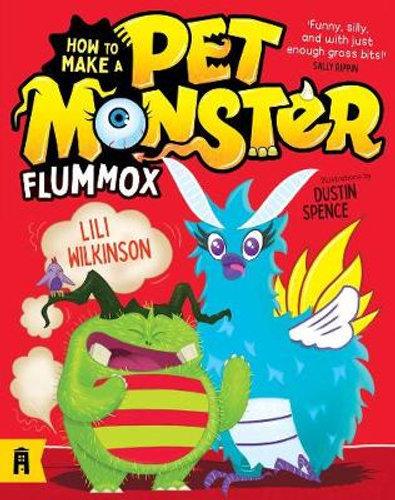 Flummox: How to Make a Pet Monster #2, is written by Lili Wilkinson, an award-winning author of picture books That Christmas Feeling and Clancy the Quokka, along with eleven other YA novels. This title follows on from Hodgepodge: How to Make a Pet Monster and is the second instalment of this hilarious new series, full of action and adventure with brilliant illustrations by Dustin Spence.
Artie, a young science enthusiast lives in a big, spooky house with rock-music loving step-sister Willow, her father, Artie's mum, and a pet monster called Hodgepodge. We learn that Hodgepodge was created by the children from a spell in an ancient book they found called The Bigge Boke of Fetching Monsters. Instead of finding the exact ingredients needed to make a hobgoblin, the children used whatever was available from around their house and the result was Artie's pet, Hodgepodge, a sock eating monster who can fart any smell.
Envious of Artie's pet, Willow is determined to create her own monster from whatever they can find (or steal) and Flummox, a strange, chicken-like monster is born.
Unfortunately, the children's school holiday plans are interrupted when they are unexpectedly asked to look after the practically perfect and very obviously lonely Arabella-Rose for the day. Willow and Arabella- Rose fight constantly, leaving poor Artie in the middle of all the angst as the children attempt and fail to keep their pet monsters under wraps.
Before long, the reluctant friends are embroiled in plenty of pet monster chaos and some surprising discoveries are made including a secret, underground room with mysterious doorways leading to an unexpected place and the unwanted reappearance of the ruthless Wesley Crankshaw, collector of unusual creatures, from book one.
Aimed at children ages 7-10, this funny story, narrated by the studious and risk-averse Artie is full of twists, turns and hilarious moments. Young readers will love the action-packed plot, quirky characters, and imaginatively whimsical illustrations from Dustin Spence.
Reviewed by Lisa Hoad