Kylie Covark (text) and Andrew Plant (illustrator), Float or Sink?, Ford Street Publishing, February 2021, 32pp, RRP $16.95 (pbk), ISBN 978925804621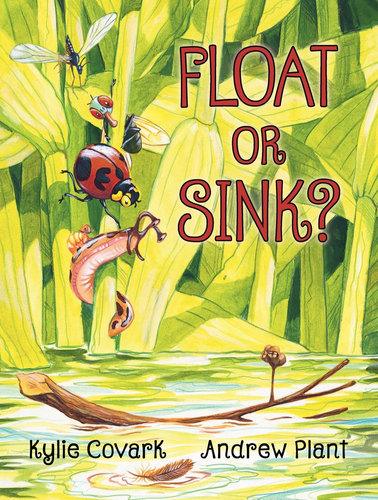 This fun picture book for children 3+ is a cumulative story in short rhyming verse, joining the ranks of such classics as Pamela Allen's Who Sank the Boat? and Hairy Maclary from Donaldson's Dairy by Lynley Dodd.
One by one, an interesting array of minibeasts hitch a ride on a stick floating down a stream. With each new hitchhiker comes the tantalising refrain, What do you think? Float…or sink?
Kylie Covark's simple text is perfectly suited to young readers. The engaging rhythm and rhyme encourage literacy skills and beg to be read aloud. Predictions are sure to erupt from readers as each new animal joins the crew…at which point will that bobbing stick sink?
Andrew Plant's illustrations in bright, natural colours feature characters showing great personality and humour. I challenge any child not to giggle at the expression on the face of the greedy duck, who is the final character to make an appearance.
Float or Sink piques curiosity, stimulates predictions and discussion, amuses, and entertains. It would make a valuable addition to homes and classrooms and could be used to inspire float/sink learning activities and nature play.
As promised by the publisher, it will keep readers guessing till the end.
Reviewed by Julie Murphy