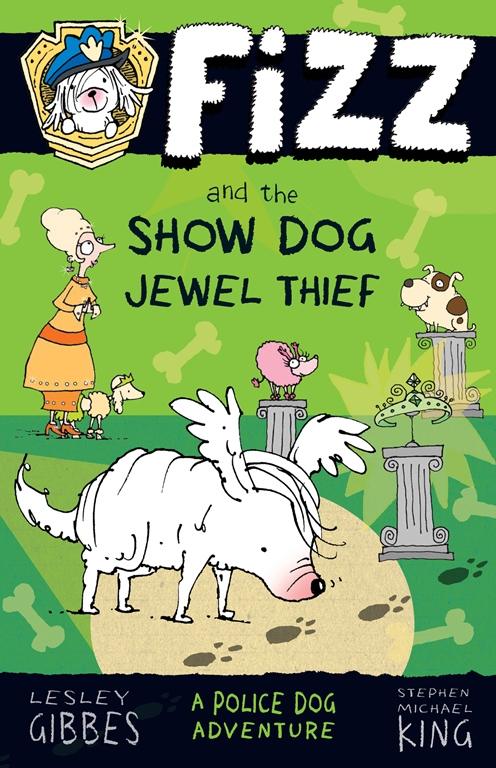 Lesley Gibbes (text),  Stephen Michael King (illus), Fizz and the Show Dog Jewel Thief (Fizz #3),  Allen & Unwin,  July 2016,  80pp.,  $12.99 (pbk),  ISBN: 9781760112882
Lesley Gibbes (text),  Stephen Michael King (illus), Fizz and the Handbag Dognapper (Fizz #4),  Allen & Unwin,  July 2016,  80pp.,  $12.99 (pbk),  ISBN: 9781760112899
Fizz is an adorable pooch who comes from a long line of show dogs, but he has bigger ideas than following in his parents' footsteps. He wants to become a police dog. In the third and fourth books in the series, he has graduated from the Police Dog Academy and is on the case. At the heart of each book is a mystery to be solved: stolen prize tiaras and kidnapped dogs. Fizz is brave, tenacious and full of ideas that help solve the crimes. He doesn't let his small size stop him, despite mild teasing from Amadeus, his large side-kick, who looks far more ferocious. He is also aided in his escapades by Remi, a resourceful female Chihuahua.
These easy chapter books for 6-9 year olds have plenty of captivating illustrations by the wonderful Stephen Michael King. Fizz, his friends and foes, are drawn as lively, appealing characters in dynamic situations. A two page spread at the beginning of the book introduces all the characters who will appear, together with their names, so that children can recognise and connect with them quickly.
The mystery at the heart of each story is simple enough for young children to follow. The stories offer clues that are not too obvious, and lots of action throughout. The books use short sentences and a simple vocabulary, although book 3 does have some longer words (undercover, championship, signature move) that might pose a challenge for some readers. Some children might find aspects of book 4 frightening as it involves dogs being kidnapped, with the 'bad guy' mentioning they will be dumped later. He also chases them with a bat and holds one of the small dogs as if he might strangle her, although this is not made explicit. At the end of both books, with teamwork and bravery Fizz and his friends save the day. Fizz is an inspiring, delightful character who refuses to let how others see him determine who he is.
Reviewed by Rachel Le Rossignol