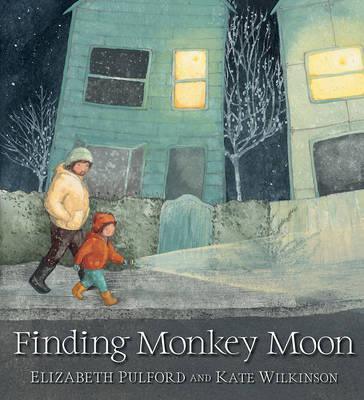 Elizabeth Pulford (text),  Kate Wilkinson (illus),  Finding Monkey Moon,  Walker Books,  1 July 2015,   32pp.,  $24.95 (hbk),  ISBN 9781921720734
Michael best friend, soft toy 'Monkey Moon', is not in the play room when Michael gets ready for bed: Monkey Moon has been left in the park. Michael sets out with his father into the snowy night, calling out with more and more urgency for his Monkey Moon, who he fears will be scared and lonely without his owner. With 'their breath fluttering like moths in the air' Michael and his dad move through the quiet streets, lit only by the glow of house lights and the arc of their torch shining through the dark tunnels of trees in the park.
Wilkinson uses muted colours beautifully to convey the stark contrast of Michael's world at night, the park eerie with shadows creating all sorts of hiding places for Monkey Moon. As the little soft toy is found, Wilkinson lights up the autumn leaves in the park to a warm glow to illustrate the happiness of Michael and Monkey Moon's reunion.
Pulford has imagined a simple and lovely narrative to convey the distress of losing a loved item or person, and Wilkinson's illustrations are sophisticated. This has layers that will suit pre-schoolers but also infant school readers seeking deeper meaning.
Reviewed by Angie Holst