Lize

Meddings

,

Find Your Kindred Spirits

(

The Sad Ghost Club

#

2

)

, Hachette Australia, January 2022, 208 pp., RRP $22.99 (

pbk

), ISBN 9781444957549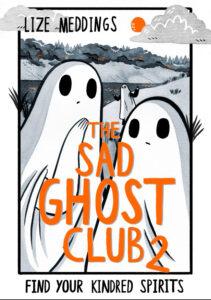 Find your Kindred Spirits by Lize Meddings is a sequel to her breakthrough graphic novel centred around mental health The Sad Ghost Club. After finding a kindred spirit in SG, Socks begins to feel less alone. Then SG wants to welcome another ghostie into the club and things get complicated. Socks struggles to overcome their insecurities around SG's new friendship and withdraws. But by being brave and sharing their feelings Socks and SG find a way to grow their club and make it a safe place for people who feel anxious and alone.   
The author continues to tackle the issues surrounding mental health in a special way. In the first book she introduced the idea of a sad ghost to depict individuals suffering with their mental health and to soften the stigma around them. She also created the idea of a club for these individuals to illustrate that no matter what you are feeling, there are others who are feeling the same and finding your tribe of ghosts can help. However, in this sequel she goes further, showing that finding your tribe is only the first step. You still need to be brave and work at developing friendships.  
The simple black and white illustrations throughout continue to be compelling and the comic book style is accessible and non-threatening. This format and the way the story is told should resonate with early teens and therefore may create a way to open the subject of mental health. The story is very simple but highlights a powerful message. You are not alone, others feel the same and if you are a tiny bit brave, a tiny bit curious, you can find your tribe and help others find theirs. 
Since The Sad Ghost Club, the Sad Ghost movement, designed to raise positive awareness around mental health, has grown with a community of half a million on Instagram. They aim to share stories that cover all aspects of mental health, the good and the bad through their website. Through their comics, apparel, and merchandise they try to provide an important form of validation and understanding for all the 'ghosties' out there. Starting conversations, giving ghosties a way to express their feelings, to understand they are not alone and it's okay to feel sad, is a major part of what they do. This book sequel is another product of this movement.  
Finding your Kindred Spirit is a heart-warming story about compassion, friendship and finding your tribe. It raises awareness about mental health and encourages kids to have conversations about how they feel. With its easy to digest format, this book presents a different perspective and provides a solid opportunity to start a conversation. Ideally suited for early teens although its simple format and story could easily be handled by a younger audience. 
Reviewed by Renee Milhulka