Steven Butler (text) and Steven Lenton (illustrator), Fiend of the Seven Sewers: The Nothing to See Here Hotel (Book # 4), Simon & Schuster, November 2020, 336 pp., RRP $12.99 (pbk), ISBN 9781471178757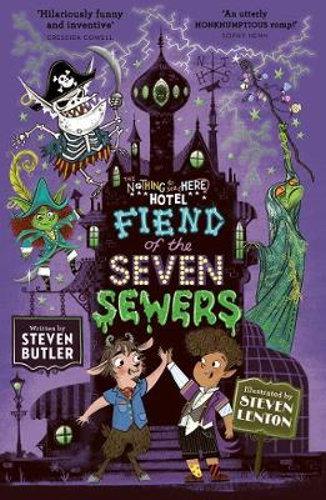 The fourth in the Nothing to See Here Hotel series by author and illustrator combo, Steven Butler and Steven Lenton, Fiend of the Seven Sewers details the adventures of part-troll, part-human Frankie Banister. Frankie, together with his family and friends operate and live in the infamous Nothing to See Here Hotel, a getaway for monstrous and magical creatures located near Brighton in the UK.
In this instalment Frankie is abducted and taken to a goblin underworld. Adventures and misadventures ensue as Frankie with the help of friends, old and new, attempts to escape and make his way home.
The book ends with the requisite happy ending and a tantalising teaser for the next instalment.
I was excited when I received this title for review as I am always on the look out for titles (particularly series) to interest my reluctant (dyslexic) reader aged 11 years. Fiend of the Seven Sewers would have appeal for younger readers (7+ years) who enjoy humour, magic and adventure.
However, as a result of literary devices employed by the author, Fiend of the Seven Sewers would be a difficult text to access for readers who have dyslexia or other learning difficulties and for those with English as a second language. The author uses nonsense words, for example, "a whoppsy load of trouble", "Posher than a poutypooper's purse", and "Nonkumbumps". Quite often these words have a common place counterpart e.g. nonkumbumps = nonsense, bumbly bits = bum/bottom. The effort to decode these nonsense words may be unnecessarily taxing and thus hinder enjoyment of the storyline, characters and humour.
In contrast, I thought for established or advanced readers, this text would provide an excellent example of world and vocabularly building, as well as entertain and satisfy imaginations.
Overall an enjoyable read that left me wondering what happens in the next Nothing to See Here Hotel instalment.
Reviewed by Anne Varnes