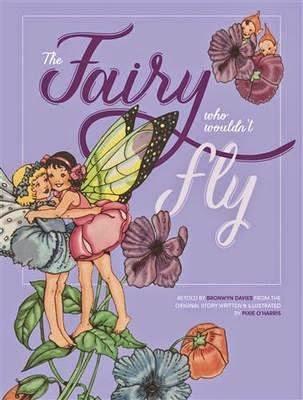 DAVIES, Bronwyn (retold from the original by Pixie O'Harris) The Fairy Who Wouldn't Fly NLA Pub, 2014 55pp $24.99 ISBN 9780642278517 SCIS 1661187
The text here printed it is essentially that of the renowned and much-loved Australian author of numerous fairy books for young children, Pixie O'Harris [Rona Olive Pratt], and was first published in 1947.  In 1976 the text was retold by David Harris and published by Angus & Robertson.  This is yet another retelling, but remaining true to the spirit of O'Harris.  The illustrations, too, are essentially those of the original; but seemingly recoloured and augmented by decorations largely of flora and some fauna taken from the files of the National Library.  The physical book is thus enhanced tremendously by pieces, all acknowledged, from celebrated artists such as Ellis Rowan, Louisa Anne Meredith, Neville Cayley to name a few.  Also across the top of page 19 is a reproduction of a Lionel Lindsay engraving 'Moonrise' that reflects the mood of the accompanying text.  Indeed the entire production is enriched by a wealth of small inset miniatures of Australian wild life.  This particular edition, then, is beautifully crafted and a delight to handle and to enjoy as a work of art in its own right.
The fairy who wouldn't fly because she 'wanted to read, to sleep, and to dream' is just one of a number of beings banished from Fairyland and taken by elves to the land of 'Woodn't' [Would not].  There is, for instance, the Frog-who-wouldn't hop; the Glow-worm –who-wouldn't-glow; the Kookaburra – who-wouldn't-laugh, and the Bee-who-wouldn't-live-in-a-hive.  Each of those banished have human attributes and emotions, but always remain true to their genus, in that they inhabit a world within the greater world.  Thus a crisis is reached when the banished crew discover 'a little mortal boy who had wandered far from his home and was lost in the Woods', a recurring theme in Australian literature.  The lost boy proves a dilemma for the inhabitants of 'Wouldn't'.  However it is their efforts and growing understanding of themselves as well as their efforts on behalf of the child that finally allow them to be restored to Fairyland and the boy to his home, a lesson learned.
Whilst the book contains a moral and extends our understanding not only of the bush and the environment, but also of human nature, it is hardly didactic.  'Charming' is, perhaps, an old-fashioned notion; but it applies to this production.  The facial expressions of, not only the lost boy, but also the fairy folk themselves range from dismay to tantrums, to delight and wonder.  The National Library has once again produced a book that is a valuable part of our literary and artistic heritage.
reviewed by Maurice Saxby