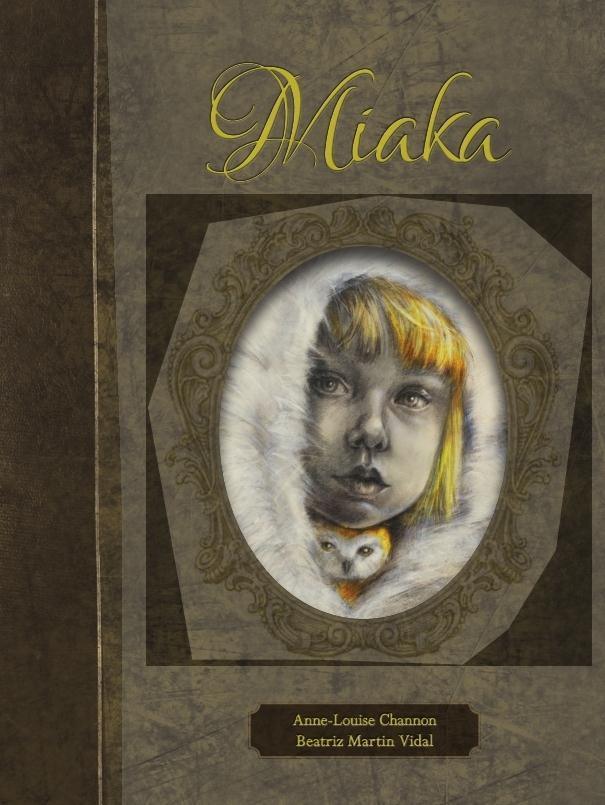 VIDAL, Beatriz Martin (illus.) Anne-Louise Channon (text) Miaka Windy Hollow, 2014 unpaged $25.95 ISBN 9781922081315 SCIS 1652163
This book is almost folkloric in its construction.  It is the poignant story of Anya, a little Russian girl, whose father dies following a couple of particularly cold winters.  Anya's mother, unable to take care of her, in the best fairy tale tradition sends her away.  She goes to live with the village baker and his wife and takes with her Miaka, her magnificent pet owl.  But betrayal follows not far behind.  Even though Anya works hard to pay for the owl's food, she overhears the baker negotiating the sale of the owl to a local man who thinks Miaka would make a good meal.  In the spirit of great sacrifice, Anya takes Miaka out into the forest at night and sets him free.  The ending is somewhat enigmatic.
The illustrations add a richness to the written text.  The cover illustration sets the scene with a cameo portrait of Anya snuggled inside a fur hood with Miaka tucked beneath her chin.  The end papers echo the flowers that bloomed in the good years but which withered and died in the harsh winters.  The pretty dress Anya wears as she rides her rocking horse becomes a symbol of the family's later poverty, as she still wears it two years later when it is much too short for her and the stripes no longer seem cheerful but are more reminiscent of prison clothes.  She, like Miaka in his cage, appears to be imprisoned by the layout of the page and the dead flowers hanging down like bars.  When he is set free the glorious gold and brown of his feathers signify the warmth and love Anya feels as she makes this sacrifice.
The book poses a number of questions such as what is freedom; how does one feel a sense of belonging; what is friendship and the nature of love.  There is plenty to discuss with older students in this book, which is not really a picture book for early childhood.
reviewed by Margot Hillel