Neridah McMullin (text) and Astred Hicks (illustrator), Evie and Rhino, Walker Books Australia, October 2022, 272 pp., RRP $18.99 (pbk), ISBN 9781760654207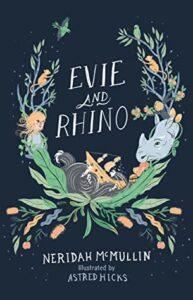 Set in rural Victoria in the late 19th century, Evie and Rhino is the story of an adventurous 10-year-old girl who becomes friends with a rhino she rescues from a shipwreck.
Evie, who lost her voice after her parents tragically passed, lives with her charismatic grandfather and a host of farm animals. During one of her walks on the beach, she uncovers a shipwreck, and to her surprise, she finds an astonishing exotic creature, a rhino.
Her caring nature pushes her to help Rhino. However, after a telegram exchange, she learns that Rhino was part of a group of exotic animals destined for the Royal Melbourne Zoo. With zoo representatives on their way, Evie must find a way to keep her beloved Rhino.
Narrated in the present tense, this charming story of friendship and conservation will be enjoyed by those who like adventure, animals, and justice. McMullin's descriptive language and captivating story-telling leave the reader wanting more after each chapter. In addition, she incorporates the rhino's perspective, narrated alongside the child's perspective, which allows the reader to fully understand the bond between Evie and Rhino. Last but not least, Astred Hicks' illustrations accompany the story with taste and complement the words beautifully.
Reviewed by Erica Gongora