Francis Sangma (text) and Lisk Feng (illustrator), Everest, Flying Eye Books, January 2019, 80 pp., (hbk), RRP $29.99 ISBN 9781911171430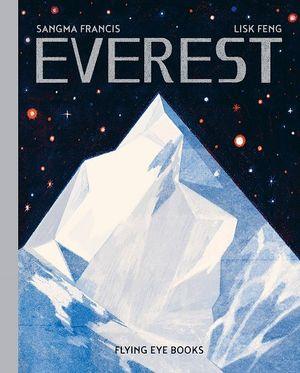 Everest is a visually stunning book. From the embossing on the cover to the many pictures of mountain peaks and natural wonders, Himalayan goddesses, and the wildlife and humans who live in the area, it is an absolute delight to explore. The same simple palette of colours is used throughout, giving it a satisfying sense of unity, and the design of the images on the large pages allows the reader to get a sense of the grandeur and majesty of the Himalayan mountains.
The text is structured as though the reader were climbing Mount Everest, with the first section introducing it as though it has appeared in the distance. The next section explores life at the foot of the mountain and what it's like to look up from there to its peak. Then the book moves on to the Alpine environment above 3000 metres. Climbing higher, the following section focuses on what happens above 5400 metres, including the attempts by climbers to reach the top. In the final section the focus is on the summit and on those who have succeeded in reaching it – and the environmental issues this has caused.
So much information is contained within this book that it traverses geography and geology to sociology, environmentalism, zoology, and even religion and myths. Beginning with the origins of Everest, the book goes on to discuss the story of human contact with the mountain, the features of life and the local environment, and the meaning the mountain has for the Tibetan people. Particularly fascinating are the various stories dotted throughout the book that tell some of the legends surrounding the mountains.
This is the perfect book to satisfy curious kids who want to know everything they can about Mount Everest. It explains complex concepts in a simple and accessible way, packing in a lot of information. Maps and lists help with this while the story illustrations such as that of the Yeti will fire up imaginations. There is a glossary and further reading at the back to support deeper exploration. Any of the sections of this book could open up the opportunity for projects or activities, such as the final page, which asks what story Everest would tell if it could speak. Definitely one to add to the school library.
Reviewed by Rachel Le Rossignol