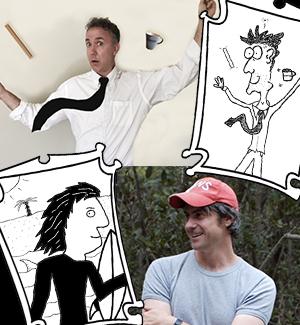 Our reviewer Julie Bertola tracked down the authors of soon-to-be-released Mashed Myths! Greek Heroes to put some questions to them. Their funny replies reflect the humour found in their book. Thanks guys!
How do you know each other?
Andrew and I met while working on his feature film The Jungle in 2012. We made each other laugh a lot, and started writing scripts together, spending hours in his writing dungeon (Andrew seriously has a writing dungeon, it's fantastic.) pitching ideas, laughing and having the odd cheeky whiskey.
How did you get the idea?

We were throwing around ideas for a new film script, and everything seemed to keep coming back to myths and laughs. Andrew at the time was concerned that his 10 year old son Joey just wasn't interested in reading. He thought the combination of myths and laughs might be the thing that got Joey reading, so he suggested that we do it as a book. We wrote and drew the first tale 'Hercules & the Hydra'. Joey loved it and immediately wanted more. We then tested the story on 200 kids at five local schools in Sydney. The results were amazing. All the kids, including reluctant readers, laughed and were totally engaged with the story. As well, the children provided fantastic feedback about the sort of book on myths they'd like to read. A
book that had quizzes, info snippets and could be dipped in and out of rather than having to be read from beginning to end. Totally blown away by the feedback we raced away and started work in earnest and Mashed Myths! Greek Heroes was born.
Are Greek Heroes a favourite topic of one of you (or both)?

Definitely. Both of us loved myths from an early age, Greek, Roman, Celtic, you name it. That's probably why we became storytellers in the first place. Andrew's favourite movie ever is Jason and the Argonauts, and after I saw Clash of the Titans as a kid, mum's rosebush got a regular thrashing as stand in for the fearsome Hydra. Andrew had a Robin Hood costume his mum made that he used to charge around the neighbourhood in. I know this because he still wears it sometimes. It's a bit weird.

How did you choose which myths to "mash"?

We wanted to start with tales that kids would already be familiar with. Thanks to a plethora of popular books, films and cartoons about Greek Heroes, even reluctant readers have an awareness of the popular heroes like Hercules, Theseus and Perseus. We picked tales with great monsters, (of which Greek Mythology has a tonne) because who doesn't like monsters? Finally, we selected tales that we could load up with jokes and laughs, without blowing out the word count. Sometimes however, we just came up with an idea that we had to write because it was too funny not to. 'Jason & the Farting Harpies' is a great example of that. We giggled for hours when we came up with the idea. The first time we read it to a class of ten year olds, they literally cried with laughter and we knew had a winner. Heroes
and monsters are all good, but fart jokes trump all.
How do you work together?

The way we work is very collaborative. One of us will write a tale, send it to the other, who rewrites it and sends it back. We argue a bit, laugh a bit, put some stuff back in, take some stuff back out until we end up with a version that we're both happy with. With the illustrations, generally Andrew does what we call the 'interstitials' – the bits between the tales – and I do the tales. But similar to our writing process, we both end up doing the pictures across the board. Andrew will draw a great pic that absolutely has to go in a tale or I'll add some drawings to the interstitials. We also pitch ideas for
drawings to each other, as in 'Hey, you should draw a book called The Magic Fartaway Tree'. I also do the publishing layout for the books, which keeps me very busy. Often I'll need some extra illustrations fast, so Andrew comes to the rescue with a stack of drawings that I don't have time to do.
In terms of the whole book process, we always do the word bits first, then the illustrations, then the layout. We talk to each other constantly, and email back and forth with ideas, drawings and jokes. Because we do it all ourselves, we're able to edit and tweak and rewrite right up until final deadline.
Are there plans for a sequel?

Absolutely! Our next book Mashed myths! Medieval Heroes is coming out later in 2019, and features mashed tales of Merlin, King Arthur, Robin Hood and others. We'll be following that up with Mashed Myths! Women Warriors. There are so many great mythologies, legends and heroes in the world there's no way we could stop at one. All up, we have ten titles underway, including Vikings, Egyptians and Celts. We're also intending to branch out into other areas and put the MM spin on fairy tales, Shakespeare, and pirates.
Where do you live?

Andrew lives in Sydney (don't hold it against him) and I live in Los Angeles (don't hold it against me). They're quite different cities except the traffic in both is diabolically awful. We do a lot of video chatting and emails in order to collaborate.

What are your own fave children's books/authors/illustrators?

So many! If I had to pick a couple it would be Spike Milligan and Roald Dahl, with Quentin Blake as illustrator. Badjelly the Witch is the first time I remember laughing so hard that I wee'd myself. As a child I read MAD Magazine obsessively, and I particularly loved the margin drawings of Sergio Aragones. I love rhymes, so Doctor Seuss is very high on my list and one of my most treasured and dog eared possessions is a hard cover first edition of Roald Dahl's Revolting Rhymes. Tolkien's Father Christmas Letters made me pack a bag for the North Pole and my mum used to read me The Hobbit when I was small and I've probably re-read that book more than any other ever. I still read Asterix and Tin Tin and can't get enough of Harry
Potter. I own everything ever written or drawn by Graham Base and my bookshelf is filled with YA and Middle Grade novels by the likes of Victor Kelleher, Robert Cormier, Robin Klein, Doug Macleod and Patricia Wrightson. I have to stop now or you will run out of internet.