Wenda Shurety (text) and Karen Erasmus (illustrator), Eva's Imagination, New Frontier, November 2018, 32 pp., RRP $24.99 (hbk), ISBN 9781925594232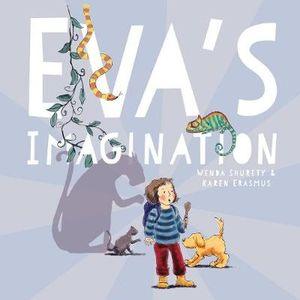 Feeling bored, Eva and her puppy Chops embark on an expedition in search of her imagination.  As they search throughout the house, the long corridor becomes a valley, the collection of table and chair legs a dense forest, the staircase a mountain and the clothes in a wardrobe a thick wall of vines and ferns  – and what appears to be a snake.  They find some treasures including a long-lost toy and a stack of storybooks.
The delightful story is complemented by the illustrations, the highlight of which is the skillful way in which Karen Erasmus conveys Chops' feelings with slight variations to the angle of his head.  The charming endpapers comprise miniatures of key items from the adventure. Suitable for ages 3-6.
Reviewed by Elizabeth Douglas