Matt Cosgrove, A Stack of Alpacas, Scholastic Australia, February 2019, 24 pp., RRP $17.99 (hbk), ISBN 9781742998848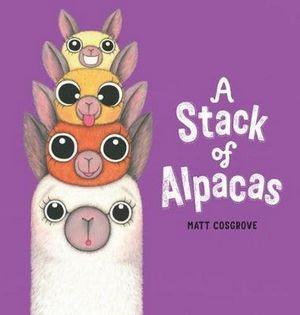 A fast-moving, amusing story of three mischievous alpacas who cause havoc when they come to stay with their Uncle Macca.  Their misadventures are conveyed with wonderful verve using onomatopoeia, making the story ideal for reading aloud while also introducing young children to a wide range of interesting actions from "scooped" to "huddled".
The importance of family rules and helping to clean up are lightly introduced and also shown to be fun.  The lively illustrations capture the mayhem perfectly and the colourful endpapers complete an impressive publication.  Excellent value for a hardback.  Recommended for children aged 3-7.
Reviewed by Elizabeth Douglas