David Woodland, Ernie's Journey, Berbay Publishers, November 2020, 40 pp. RRP $25.99 (hbk), ISBN 9780648785149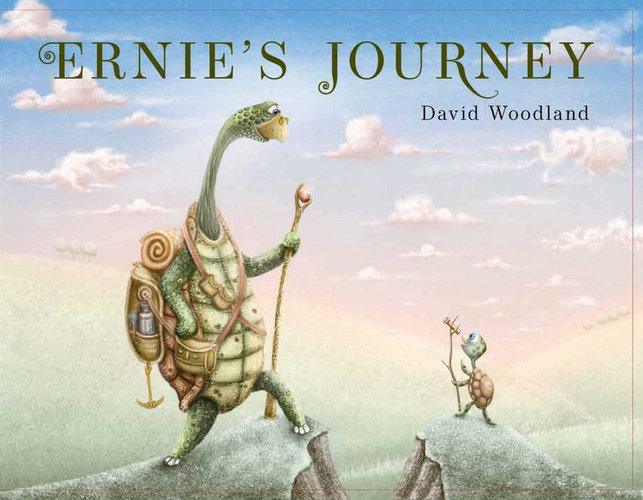 Ernie's Journey is a debut book by David Woodland gives children a great opportunity to let their imaginations run wild. The creativity and attention to detail provide a window into a world where they can expect the unexpected. Ernie, the titular character, is an experienced, adventuring uncle to Eli, a young tortoise who is very attentive to Ernie's tales. Young readers will want to be paying attention right from the front endpapers. 
At Eli's request, Ernie recounts some of his more outlandish adventures to Eli and his cousins. When Eli has the chance to talk about his greatest adventure his cousins don't believe him. But Uncle Ernie shows his belief in Eli and in his future quests into the big, wide and unknown world.
The illustrations, which I would generously say are similar to the Fan Brothers', really make this book. The colours are soft, the content is fantastical, and this combination allows children to experience adventure and danger while still feeling safe and comfortable. There are exotic and curious make-believe creatures who are wonderfully depicted to give a sense of uncertainty all without instilling fear in young children. The evidence is that we didn't have to skip any pages despite my kids having a low scare threshold (I'm still told to skip pages in Llama Llama Time to Share and There's a Hippopotamus on My Roof Eating Cake).
The plot is not quite as strong as the illustrations but does engage readers more with subsequent reads. Luckily, the demographic which this book is aimed towards is very forgiving and often visually focussed. Ernie's Journey sits very comfortably in the 3-7 years age range and is a beautiful book to add to a school or home library. 
Reviewed by Cherie Bell