Nancy Springer, Enola Holmes and the Black Barouche (Enola Holmes #7), Allen & Unwin, August 2021, 272 pp., RRP $16.99 (pbk), ISBN 9781761065255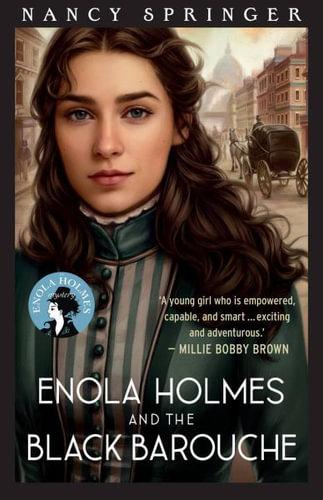 Enola Holmes is at it again. A young woman in the Victorian era and sister of the famous Sherlock Holmes, Enola is not one to underestimate. Smart, observant, and stubborn, Enola won't let anything, or anyone, stand in her way.
When a distraught Miss Letita Glover arrives on Sherlock's doorstep, desperate to learn the true fate of her twin sister, it's Enola who takes on the case. With very few clues Enola must investigate every possible avenue and hope she doesn't hit a dead end. This means not only going undercover, but also enlisting the help of Letita, Sherlock, and her old friend the young Viscount Tewkesbury, Marquess of Basilwether.
Will Enola and her friends be able to unravel the web of lies, or just end up in a tangled mess of trouble?
Enola Holmes and the Black Barouche by Nancy Springer is the seventh book in the long and successful series of novels. This was my first introduction to Enola, but even so I was able to jump right in with exceeding ease. I wouldn't consider it vital to read the books in order, though I would probably recommend it.
The story involves a lot of discussion around sexism and classism, which makes sense considering the time period, but is still relevant to today. As a novel set in the Victorian era, it involved many of the customs, norms, and mannerisms of the time, but in a natural manner that felt interesting and authentic rather than confusing or tiresome.
Enola is a fantastic protagonist, being simultaneously relatable and inspiring. She is funny, clever, progressive, and has strong moral compass. I found it interesting that Sherlock is presented as quite unprogressive and sexist, although in many ways this makes sense, and it's very satisfying when Enola repeatedly proves him wrong and slowly changes his worldview.
If you're 10-14 years old and like mystery and/or history, I would definitely recommend the Enola Homes series for a Sherlock story with a feminist twist. The first book in the series has been adapted for Netflix, starring Millie Bobby Brown (Stranger Things). It's now showing, and there's word there will be more. Huzzah!
Reviewed by Libby Boas