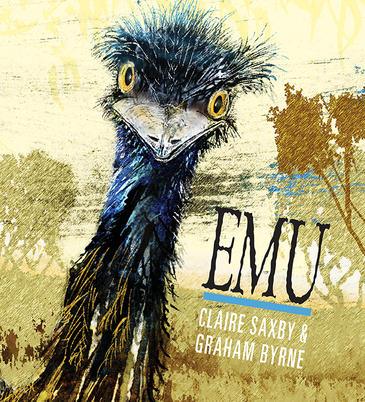 SAXBY, Claire (text) Graham Byrne (illus.) Emu Walker (Nature Storybooks), 2014 29pp $27.95 ISBN 9781922179708 SCIS 1671866 
The story of the character Emu, father of eight granite green emu eggs, is related on the left hand leaf of each double spread.  This narrative is quite poetic: As sunshine follows frost, and winds fetch rain, emu safeguards his clutch.  It contrasts with the factual material, usually found on the right hand leaves.  This has been given an informal font to present matter of fact details: Untended eggs may be eaten by predators…  There is a further section of information on p.28 followed by brief index on the final page.
The illustrator evokes a mesmerizing landscape of earth tones, spiked grass, low timber, and fallen leaves under a pale smudge of blue sky.  Readers also see Emu's sharp beak, huge eyes, soft head down, and rougher body feathers up close.  Illustrations show an emu in repose, with eggs or striped chicks well camouflaged.  But we also share, from above, the feeling of a whole emu family racing in fear, under the terrifying shadow of a hovering eagle.
This is a beautifully written story book for which its size, layout and illustrations meet expectations for a recommended, quality picture book.  The author inspires our fondness and admiration for her Emu.  In addition, however, it becomes a visually appealing information book with an unusual format and layout for that genre.  Ideas for using this book in the classroom can be found on the publisher's website.
reviewed by Elspeth Cameron