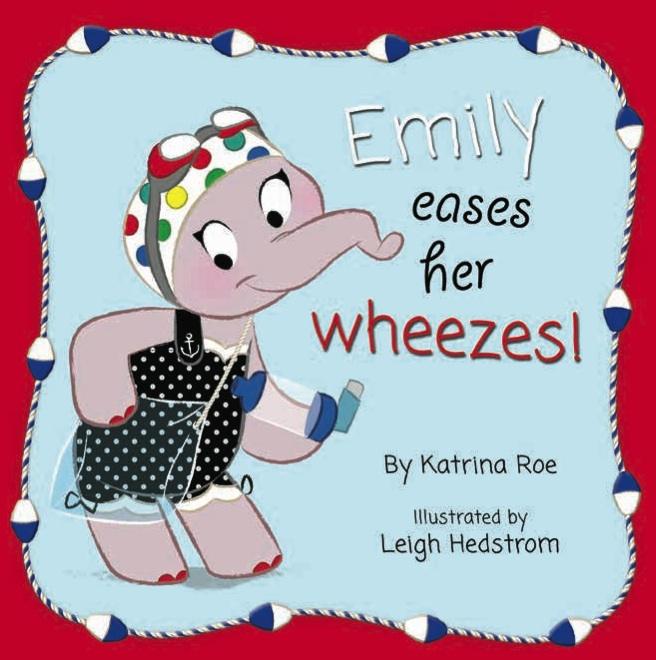 Katrina Roe (text) Leigh Hedstrom (illus.) Emily Eases her Wheezes! Wombat Books,  31 December 2014,  unpaged,  $19.99 (hbk),  ISBN 9781925139129
Emily Eases her Wheezes! is a vibrant picture book exploring the impact and effect of asthma. The book cleverly taps into this topical subject building awareness and promoting discussion around this common chronic disease.
Emily the Elephant is a character first introduced to readers by the same creators in Marty's Nut-Free Party.  In Roe's new story Emily is the central character and suffers from asthma. Emily is a likeable heroine, she is full of energy and the reader is sympathetic as her illness prevents her from playing with her friends when it's an 'asthma day'. Emily's journey throughout the story is about learning to manage her illness so that she can still do all of the things she loves and join in with her friends.
Friendship is a strong theme throughout the book. Emily's friends are concerned about her health and try to find ways to make her feel included. They use the internet to research asthma and to get some ideas on activities that will help Emily. Through their research they discover that swimming is good for asthma and the friends start going regularly, helping Emily to become healthier and stronger.
The parents and guardians are anonymous in the illustrations and only their legs or backs are depicted.  The grown ups do not intrude on the narrative but their presence can still be felt throughout the story. For example when the characters are using the internet, a guardian is present and the same goes when the friends are at the pool.
The language is simple and fun using alliteration and descriptive verbs. The story is text led, but Hedstrom's bold and expressive illustrations compliment the narrative and add another dimension to the story. The illustrations are appealing and serve to add subtle messages and keep the setting of the story modern and relevant.
Having close friends and a nephew who suffers from asthma this book really appealed to me. Together Roe and Hedstrom have crafted a fun and enjoyable story with a loveable character that children will relate to.  On another level the author/illustrator team have also produced a practical resource including useful facts about asthma.  Teacher's Notes and Ideas are available on the Wombat Books website.
reviewed by Maria H Alessandrino