Cate Whittle, Emergency Rescue Angel, Scholastic Australia, February 2020, 256 pp., RRP $16.99, ISBN 9781760669263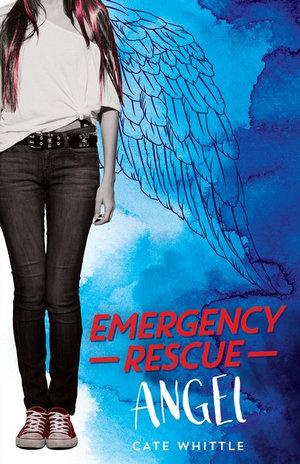 This interesting blend of genres usually involve older female protagonists, and a swoony male angel offering more than a dash of romance combined with the paranormal elements and the grief component. Here we have a younger male main character and a snarky doc-martin-wearing-rule-bending female angel, who's obviously older than time, bringing a fresh approach, targeted at younger teens.
Mitch's father died tragically a year ago, yet we don't have access to all the details until late in the novel. Whittle is more interested in how the death has impacted Mitch's behavior (hint: badly), and the way rescue angel Max helps to bring him back to himself and his at-the-end-of-her-tether mother. Readers know very early on that Max has angelic qualities, and although Mitch has his suspicious there's something not quite right about her, her secret remains that for a while.
I loved the emergency angel idea; that she is just a temporary addition to his life, and the understanding that he will have to stand on his feet at some point. Max herself is blunt, subversive and always on Mitch's side, even if he doesn't think that's true. His obstacles are realistic – improve his lapsed interest in school, navigate bullies who appear to want to befriend him, and return to his beloved surfing — ensuring we sympathise with him, and suspend disbelief about Max's true form.
Mitch's artistic talent features in a couple of sub-plots, eventually tying into a street art mural inspired by and honouring his father. As well, there are recurring nightmares about his loss, and when Max's energy starts to make the dreams all too real, greater angelic intervention is required. These difficult topics are given a light touch, and while we're meant to understand that Mitch is devastated by his father's loss, at times, Mitch's refusal to dwell on it means that we don't always feel it. On the other hand, this is probably an authentic reaction, and we all know there is no right way to grieve.
Perfectly suitable for that 12 to 14 age bracket, Emergency Rescue Angel should be something young adult males might pick up; however, I worry about the suitability of the cover. I hope they do because the messages about dealing with the loss of a parent are nicely interwoven into a grounded and hopeful narrative.
Reviewed by Trisha Buckley