Alexander Kaufman (text) and Mariana Rodrigues (illustrator), Earth's Aquarium: Discover 15 Real-life Water Worlds, Walker Books, June 2021, 80 pp., RRP $44.99 (hbk), ISBN 9781913520090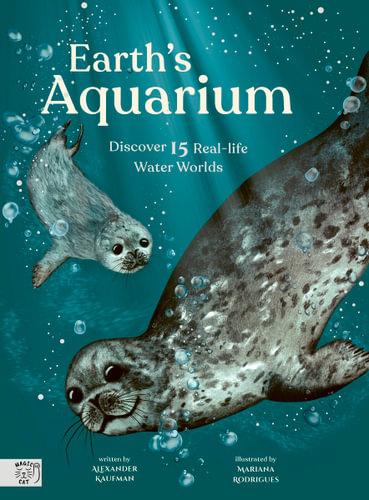 Earth's Aquarium is a beautiful non-fiction/reference book which explores 15 real-life underwater habitats, and the creatures that call them home. The large book is almost A2 in size and has 80 pages combining beautiful illustrations with encyclopaedic text. The foreword explains that the purpose of this book is to give readers a place to start connecting with our water worlds. The accessible text does just that, introducing readers to dozens of aquatic creatures, from minuscule Antarctic midges to ginormous blue whales. The digitally created illustrations sit somewhere between biological illustration and artistic watercolour, making them educational but also appealing to children.
Earth's Aquarium follows the same format for 15 different locations: a double-page spread describing the habitat and some of the threats it faces, followed by detailed images and description of 8-10 animals that live there, with extra facts spread throughout. There are also introductory pages, an index, and a list of sources. Earth's Aquarium covers a great range of habitats, from the familiar coral reefs and open water, to others Australian readers may know less about, such as salt marshes and oyster reefs. Similarly, the range of animals featured is excellent, including a host of underwater sea creatures along with birds, insects, and plants.
The easy-to-read information and appealing illustrations make Earth's Aquarium a great addition to classrooms and school libraries. The large size and quality finish (including matte paper and foil on the cover) mean it will also make a fantastic gift for children 7 years and older, especially those who already have an interest in biology, marine science, or nature in general.
Reviewed by Laura Holloway