Mark Wilson, Rachel's War, Hachette Australia, May 2021, 32 pp., RRP $26.99 (hbk), ISBN 9780734420114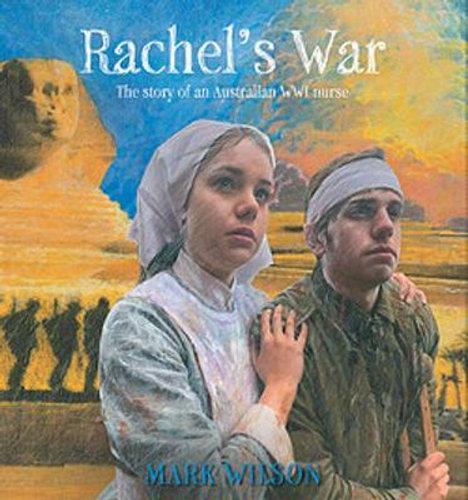 Rachel grew up on a farm in rural Victoria where she remained, after her parents' early deaths, until she went to train as a nurse, so she could realise her dream of being able to help people. In 1914 when war comes to the world, after the assassination of Archduke Ferdinand, Rachel and her best friend Elsie enlist in the Australian Army Nursing Service. They are sent overseas where they deal with the wounded being evacuated from Gallipoli, and other battlefronts. Wilson shows in both words and pictures, the hardships which confronted the nurses: shortages of basic equipment, food and sanitation as well as staff. Rachel and Elsie manage some incidental sightseeing in Egypt before being transferred to France but continue treating men with battle wounds and more complex health issues. Each of the girls suffers physical and mental traumas, including Rachel herself being wounded after a German bombing raid.
Rachel Pratt, a World War 1 Australian nurse who was one of seven Australian nurses to receive a Military Medal for "courage under fire", inspired Mark Wilson to create this book. But she was not alone in her dedication. There were many, many other women who put their lives at risk and many of them, like Rachel, lived with the physical results for the rest of their lives.
This book is a great addition to Mark Wilson's other war-themed picture books. The illustrations, with nods to several great artists of the early twentieth century, give younger readers the idea of the damage and chaos of war without being distressingly graphic.
Recommended for all libraries and home collections, and young readers who enjoy books based on fact.
Reviewed by Maureen Mann