Ole Könnecke (text and illustrations) and Shelley Tanaka (translator), Dulcinea In the Forbidden Forest, Gecko Press, September 2021, 64 pp., RRP $24.99 (hbk), ISBN 9781776573950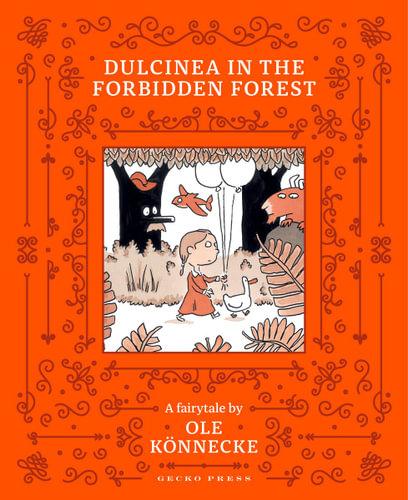 Dulcinea In the Forbidden Forest is a fairytale featuring a feisty young heroine, a (not-so-bright) father who is turned into a tree and an evil (but also not-particularly-bright) witch.
It is Dulcinea's birthday, and she has requested pancakes with blueberries and whipped cream for breakfast. But neither Dulcinea or her father remembered to buy blueberries from the market! Her father decides to gather some blueberries from the forbidden forest, rationalising that he can't possibly run into the evil witch on his daughter's birthday. Sure enough he does encounter the evil witch, who casts a spell on the father and turns him into a tree! Plucky young Dulcinea soon realises that her father has been gone for too long and she sets off on a daring adventure to find him.
Dulcinea In the Forbidden Forest is athrilling tale of bravery, quick wit and love. Ole Könnecke builds tension through cliff-hanging pages and dramatic illustrations. His wonderful use of language will challenge young readers and add to their vocabulary. The accompanying illustrations are charming and use a simple colour palette of black, white, and reddish brown.
This gorgeous book is ideal for early independent readers aged 4 – 8 years. Parents and caregivers will find the story rather delightful and worthy of a chuckle or two!
Reviewed by Clare Mellor