Katie & Kevin Tsang, Dragon Mountain, Simon & Schuster, October 2020, 336 pp., RRP $14.99 (pbk), ISBN 9781471193071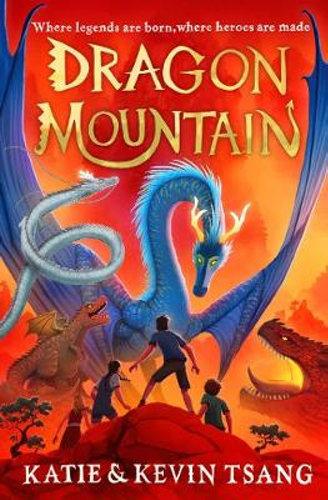 When 12-year-old Californian surfer, Billy Chan, arrives at language camp in China, he's hoping to have a good time but he's also nervous. So, he's grateful when he quickly becomes friends with Dylan, Ling-Fei and Charlotte. They seem like the perfect team to complete the challenge set before them by the camp organiser: a scavenger hunt. But something strange happens when they take a shortcut through a bamboo forest. First, they encounter a hostile tiger. Then there is an earthquake – one so strong that the side of the mountain cracks, leaving a mysterious opening. It seems that this quartet are what the inhabitants of the mountain have been waiting for: four hearts to match the four dragons that have been imprisoned there, locked out of the Dragon Realm by the Dragon of Death and the Nox-wings.
Now they really must work as a team and the four children find themselves quickly bonding with the dragons. The bond gives both the dragons and the children extra abilities which they will need if they are to help the dragons go back to the Dragon Realm and stop the Dragon of Death succeed in crossing over to the human world and taking power.
This is a high-action dragon story for middle-grade readers. The story dives in quickly and moves along, keeping the reader engaged. Billy is an endearing character with whom many children will identify – ready for more freedom but nervous at the reality of being so far from home and family. The setting in China adds an extra interest angle, with the opportunity to learn a few words in Mandarin.
The writing is simple and engaging while the content is mild, making this both a great book for advanced younger readers and perfect for reluctant readers. It's a great step up from simpler novels or chapter books.
The second book, Dragon Legend, is due for release in March 2021.
Dragon Mountain is recommended for readers 9+.
Reviewed by Pamela Ueckerman