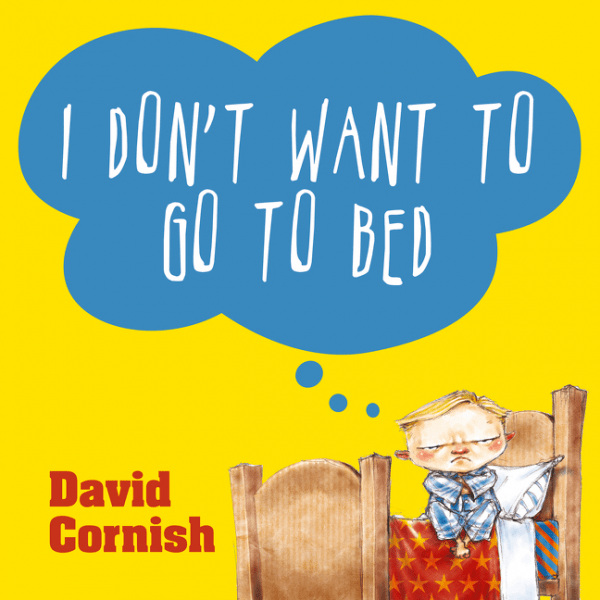 David Cornish, I Don't Want To Go To Bed, Harper Collins Australia, September 2016, 32pp., $24.99 (hbk), ISBN 9781460750582 
I Don't Want to Go to Bed is the amusing sequel to I Don't Want to Eat My Dinner by talented author and illustrator, David Cornish.
'Every night when dinner was done, Rollo would cry… I don't want to go to bed'
… an announcement every parent is certain to have heard before. David Cornish transforms a mundane routine into something fantastic; for every bedtime protest and well-known stalling technique, Rollo is presented with the most incredible solution.
When Rollo needs a story, a world famous actor is on hand to get the job done.  When Rollo declares his stomach-rumbling hunger and his 'dry as the driest desert' thirst, his demands are met immediately. There before him is a table laden with every kind of tasty treat and a decorative stone fountain, gushing with all the water he could ever need.  There is even a gleaming toilet, set upon a royal-red carpet, for his evening wee, and an ingenious contraption young Rollo can use to deal with those pesky monster-under-the-bed scenarios.
The artwork is wonderfully vivid: sketchy outlines; rich inky colours and textures teamed with witty comic detail, bring the illustrations to life.  In fact, the expression on Rollo's ruddy-cheeked face reminded me so much of my own three year old boy at bedtime that I had to laugh out loud as we read it.
I Don't Want to Go to Bed is the perfect book for parents with very young children, bringing good humoured entertainment, light relief, and levity, to what can often be a bedtime battleground.
Reviewed by Lisa Hoad