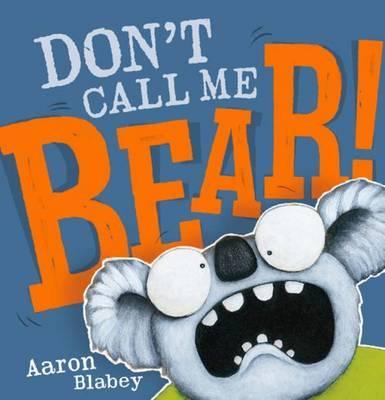 Aaron Blabey,  Don't Call Me Bear! ,  Scholastic Australia,  1 August 2016,  24pp.,  $16.99 (pbk),  ISBN: 9781760159849
How much can a koala bear?
Well, for Warren, the Koala, not much more at all! In fact, he's had a gutful of being called a bear, and he's on a mission to set the record straight.  Having been wrongly labelled a bear since the landing of Captain Cook, Warren is ready to let everyone know that cute, furry and bear-like though he may be, koalas are in fact marsupials!
Aaron Blabey's newest picture book tackles Warren's rage in hilarious, rhyming text, with bright, cartoon-like illustrations in Blabey's signature style. Perfect for sharing at story time, or for beginning a discussion about Australian animals and marsupials, Don't Call Me Bear will make kids aged 5-9 giggle out loud, but the illustrations will make just about anyone chuckle (just check out the Chart of Common Marsupials, each wearing a pair of Y-fronts!).
Sure to become a popular title in every school library, Blabey has combined a little bit of education with a lot of humour, with a unique result. Here's hoping Warren the Koala has a few more things to share in the future.
Teaching notes are available on the Lamont Books website.
Reviewed by Kay Oddone