Mick Elliott, Dads and Dogs, Walker Books Australia, July 2023, 32 pp., RRP $24.99 (hbk), ISBN 9781760655044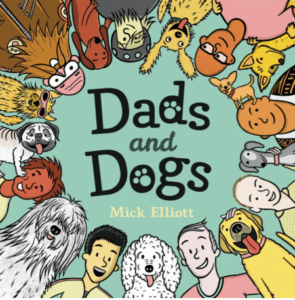 Look at all the dads and dogs!
All types of dads, and all types of dogs are celebrated in Dads and Dogs. Fun and quirky, readers are invited to celebrate the unique bond between fathers and children (and also the dogs!).
An easy-going rhyme, cleverly using alliteration to connect dad and dog, helps readers appreciate all the unique dads out there bringing love and joy to families. The illustrations are entertaining and bold, truly capturing the love, chaos, and hilarity when dads are in charge.
Exploring themes of family and togetherness, Dads and Dogs is a lovely read a loud and a great gift for dads, to remind them of the important role they play in nurturing young children, even if they don't know what they are doing!
Whether it be reading dad, footy dad, tattoo dad, or maybe even your own dad, there is a dad in here for all.
Mick Elliot is well known for his series The Turners, featured in the Premier's Reading Challenge, and Squidge Dibley, a middle grade series popular in Australia and abroad.
Here is a doggy approved peek at why Dads and Dogs is the bee's knees.
Reviewed by Shelley Stephens