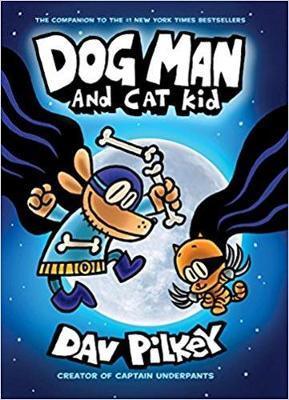 Dav Pilkey, Dog Man and Cat Kid (Dog Man #4), Scholastic Australia, 1 Jan 2018,  256pp.,  $15.99 (hbk),  ISBN: 9780545935180
Dog Man and Cat Kid is the fourth book in the popular, graphic novel Dog Man series by Dav Pilkey.
When my copy of Dog Man and Cat Kid arrived to review, I was keen to read it and find out why this series is so popular that the books are almost constantly on loan from the library.
The Dog Man character is half dog and half man (policeman to be exact).  He is employed by the police department where he seems to do nothing other than jump on people, lick them, eat everything and make a general nuisance of himself.  His nemesis is Petey, the world's most evil cat. Petey's clone, in form only but not in character, is Li'l Petey who is in Dog Man's care.
In this fourth book, Petey poses as a babysitter so that he can kidnap Li'l Petey and set about making trouble for Dog Man and everyone associated with him.  A new Dog Man movie is being filmed at the local film studio.  Between Dog Man's bungling and Petey's evil antics, the movie production descends into chaos and must be abandoned.  It is Li'l Petey's superhero alter-ego, Cat Kid, who saves the day.
In the best traditions of comic books, there is an abundance of cartoon slapstick – falling about and crashing into or through things. Adding to the humour are colourful insults (in language suitable for kids), a bit of irony and some clever puns and wordplay. The colourful cartoon drawings are central to the fun and silliness, depicting the slapstick action and the characters with their exaggerated facial expressions and active body movements.
For me, the most impressive part of the book is the "flip-o-ramas", interspersed through the story. A "flip-o-rama" is a moving animated cartoon created by flipping backwards and forwards between two pages. I also liked the step-by-step illustrated instructions at the back of the book on how to draw the main characters.
I can see why boys (and perhaps girls too) would love the book's exuberance, its fast-paced action and general amusing silliness.  Being an easy read in graphic book format, it is suitable for a wide age range of readers and makes an excellent option for reluctant readers in upper primary years.
Reviewed by Barbara Swartz