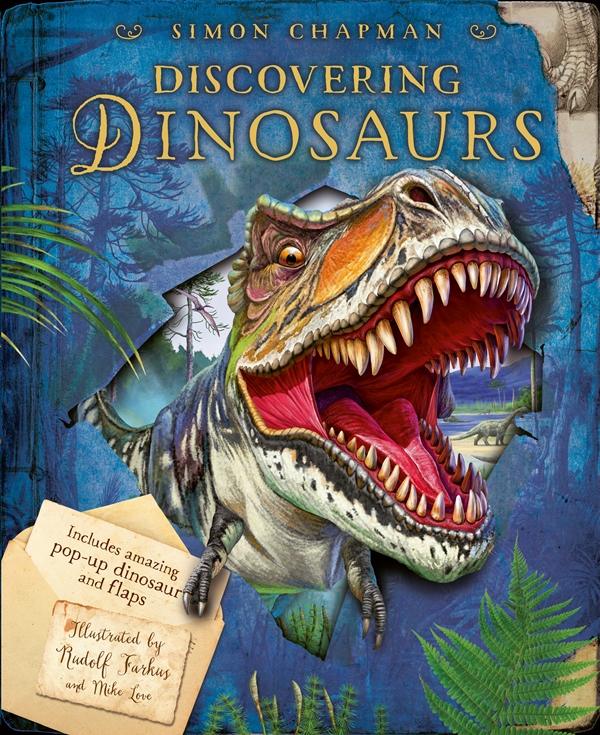 Simon Chapman (text), Rudolf Farkas and Mike Love (illus.), Ania Mochlinska (paper engineering) Discovering Dinosaurs, Bloomsbury/Allen & Unwin,  Nov 2016, 32pp., $29.99 (hbk),  ISBN 9781408194614
Visually this is a most attractive book. The front cover features a Tyrannosaurus Rex lunging at the reader, teeth blazing. Inside, most double-page spreads feature more full-colour graphic illustrations of various species of dinosaur. There are fold-outs and pop-ups, envelopes and booklets to open. It all looks very appealing to the young dinosaur enthusiast.
However, there are problems in the logical arrangement of the subject matter and in factual accuracy. This begins on the title page where the colour illustrator's name is given as Rudolf Furkus (definitely the same letter as in 'Rudolf' and 'illustrated') whereas he is listed as Rudolf Farkas in the bibliographic details. A Google search reveals that the latter name is correct.
The contents then begin with a description of the Triassic period. The first double page spread is a large fold-out map of Pangaea. Reading the text from the left side to the right side does not flow as logically as starting on the right-hand side and moving to the left. Inside the foldout are descriptions of the Jurassic and Late Cretaceous periods. No times are given for these two and the text then moves back to the Late Triassic.
The idea of the book, as explained in the introduction, is to follow in the footsteps of some of the great dinosaur fossil hunters and discoverers. There are pictures of only some of them and some are completely ignored. On the page titled 'Dinosaurs of the Polar Forests', the reader is told that Pangaea had split into two landmasses called Laurasia and Antarctica, now called Antarctica and Australia, and that the South Pole was not permanently ice-covered. Four species of dinosaur are described, with the impression given that they are all from the South Pole, whereas in reality all were found in Victoria, three of them by Patricia Vickers-Rich and Tom Rich, who are not acknowledged. The fourth species is called a dwarf allosaurus, known only from an ankle bone, but this label has been challenged by several palaeontologists – this is not mentioned.
Overall, while this book looks wonderful, it has some flaws. If you or young readers of your acquaintance like the look of a pop-up book about dinosaurs, then it may be worth tracking down Encyclopedia Prehistorica: Dinosaurs, by Robert Sabuda and Matthew Reinhart. The emphasis is different,


but the paper engineering is amazing.
Reviewed by Lynne Babbage