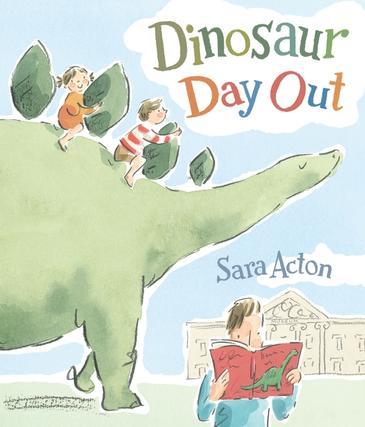 Sara Acton, Dinosaur Day Out, Walker Books Australia, 1 Sept 2018, 40pp., $24.99 (hbk), ISBN 9781760650049
Dinosaur Day Out follows the exploits of Sally and Max as they go to visit the Dinosaur exhibition int he museum with their dad. To their dismay it is closed and the children are distraught. Their dad buys a book about dinosaurs and takes them to the huge gardens in the city where he tells them interesting facts about the prehistoric creatures. As they explore the pathways and climb the trees, their day out becomes a fun-filled, exciting encounter where they interact with imaginary dinosaurs.
This is a beautifully illustrated picture book with so much to enjoy on every page. Both text and pictures work brilliantly together to reveal the power of imagination in transforming what could have been a disappointing excursion into an unforgettable day.
The text is simple, yet interesting and informative. Graphite pencil, watercolours and collage have been used to draw fun, expressive illustrations that have a sub-text which invites conversation and discussion.
Sara Acton as author and illustrator has created an excellent picture book that 4 to 7 year old children in particular will love and the adults reading it to them will find thoroughly entertaining.
Reviewed by Grace Nolan