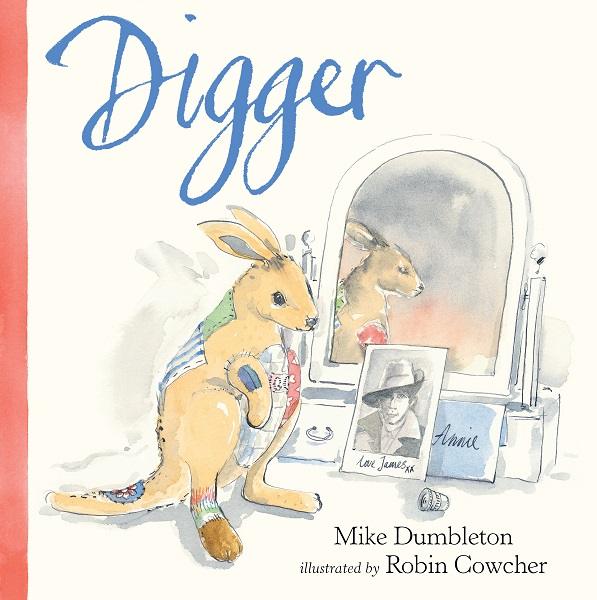 Mike Dumbleton (text), Robin Cowcher (illus.),  Digger, Allen & Unwin, March 2018, 32pp.,  $24.99 (hbk),  ISBN 9781760296735
Digger is a kangaroo made of scraps who accompanies Annie's brother James to war in France. Annie hopes Digger will keep James safe. When James is injured and needs to recover, he is taken to stay with a French family whose daughter, Colette takes it upon herself to mend Digger who has also sustained some damage.
Sadly, a short time later when James is killed in action, Digger is delivered to Colette's home where she mends the tiny kangaroo before sending him to Annie in Australia.
Author, Mike Dumbleton has created a beautiful story about connections – distant relationships formed in a time of hardship – and a small kindness that unites those far apart.
The language is quietly delivered; there is no place for the horror of war on these pages. In this way, Dumbleton presents a sweet story which focuses on the lives of three individuals in an uncomplicated way. It is about family, friendship and shared memory.
The success of a children's picture book is reliant on the match between the words and the illustrations. Robin Crowcher's beautiful watercolour images are dreamlike and delightful. Their gentle softness works so well with the tone of Dumbleton's words – a perfect union much like that of Annie and Colette.
This book is written for very young children – the topic of war and death is never easy. With Dumbleton's gentle writing style and tender approach to his subject matter, I feel sure he could have stated that James was killed rather than 'smoothing over it' by using inference. There will be some children who ask where James went – and the telling won't be nearly as eloquent as if the answer had been delivered by Mike Dumbleton.
Teachers' Tips can be found on the Allen & Unwin website.
Reviewed by Jennifer Mors